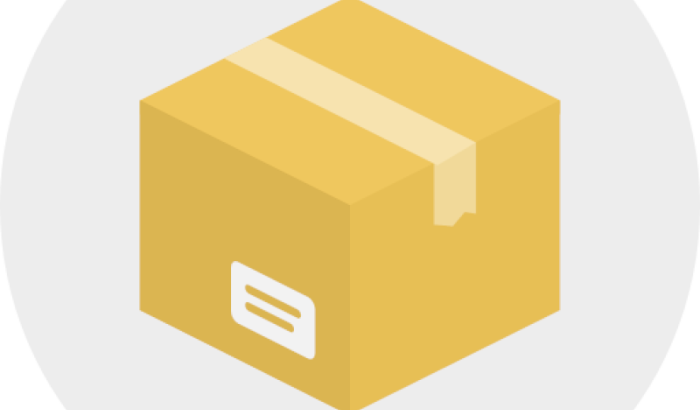 -14 %
This bundling offer created to jump start the your OpenCart online store success.
It contains combination of extensions that originally tailored for sales, customer experience and productifity.
Let's have a look:
1. HP Professional Email Template
We are all know about default OpenCart email template. That's not the best possible email template you can get.
It's important that you reflec your professionality on the store theme and all over the place where your customer see text and images.
Key Benefits
This extension will allow you to make email template beatiful and customizable at the same time.
It maps all order status email on your OpenCart store and having professional look instantly.
On top of it, all other system email also be mapped and customized on single page. Yes!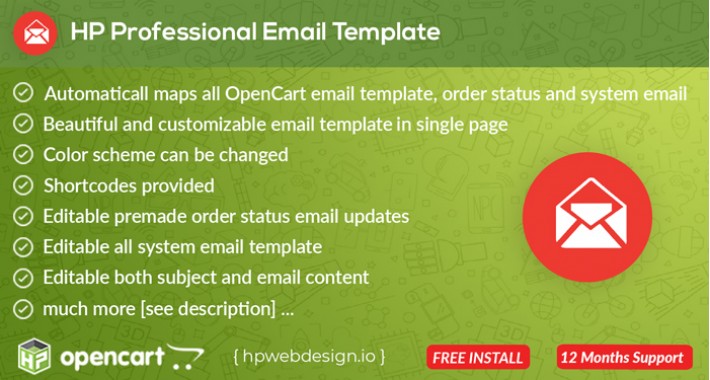 Detailed Demo & Description
2. HP Social Login
Every online store must pay close attention on how login and registration works.
We have to make sure that customers can register and login faster, easier and looks good at any mobile device. And here is the solusion: HP Social Login
Key Benefits
Enable you to make your customer register and login faster using Facebook, Google, Email and Phone (with OTP) based registration.
On top of it, you will also get complete full name, valid email address and their phone number by registering through custom popup form.
Integrated automatically with default OpenCart checkout page and Journal Quick Checkout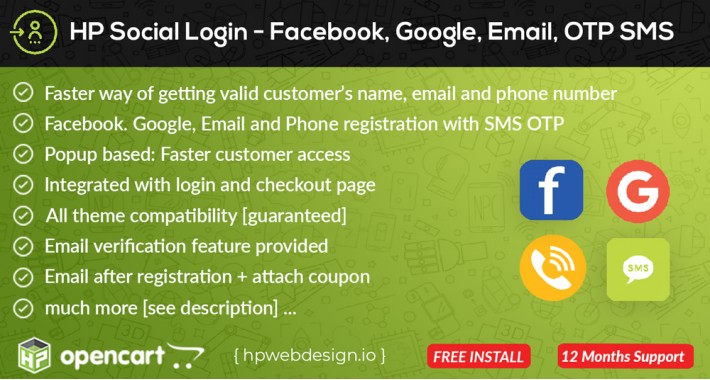 Detailed Demo & Description
https://hpwebdesign.io/social-media-login-facebook-google-email-sms-opencart
3. Whatsapp Chat Button
Most advanced Whatsapp Chat Button for OpenCart that you will ever need!
Add beautiful multi customer service whatsapp chat button on your store.
Dedicated chat button on product page also presented.
Bonus: switch to any preferred chat button that you want. You can swtich to tawk.to, messenger or getbutton.io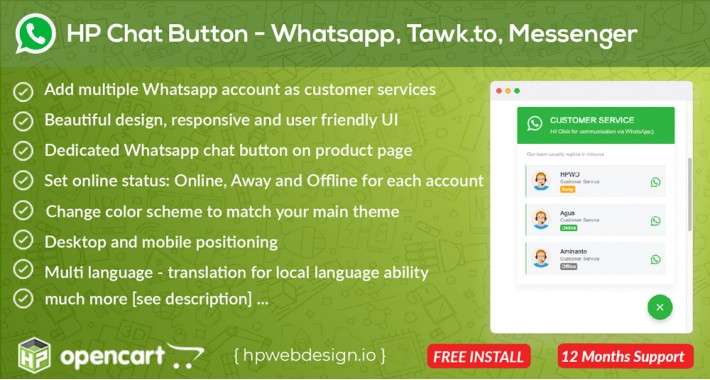 Detailed Demo & Description
https://hpwebdesign.io/whatsapp-chat-button-opencart
4. Coupon Code Discount for New Customers
The moment you got traffic on your site is your golden time.
Use that moment to give coupon code for any visitor >> that will be your new customer.
Through email or discount bar that always appear on top section of the page.
System will ask them email to send coupon code >> you got the email
Or simply display discount bar that always appear on top section of the page.
Key Benefits
This extension will allow you to create special coupon code that apply for visitor (Non Customer).
Visitor will enter their email and extension will send them coupon code email.
You can collect their email as target marketing campaign.
Motivate any new visitor to buy your product by giving them special promo code for their first purchase.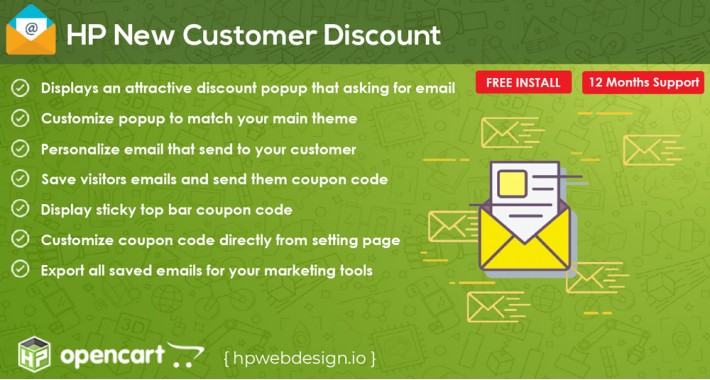 Detailed Demo & Descriptionhttps://hpwebdesign.io/whatsapp-chat-button-opencart
7. Customer Review Reminder
Reminds customer to give review
Every review deserve a coupon code for next purchase
HP Starter Bundling OpenCart
FREE INSTALL!
Every purchased extension is automatically included with FREE installation service.
Specification
License

Single Domain License

Compatibility
3.0.3.8, 3.0.3.7, 3.0.3.6, 3.0.3.3, 3.0.3.2, 3.0.3.1, 3.0.3.0, 3.0.2.0, 3.0.1.3, 3.0.1.2, 3.0.1.1, 3.0.0.0
Documentation
Multi-lingual Support

YES


Override Core Files

NO
Every purchase of an OpenCart module at HPWD you automatically get:
Free updates forever

Free installation on your OpenCart website




Free Technical support up to 12 months




See technical support terms: Support Policy

(*) Installation might be charged for complex extension such as social media integration, API setup, etc.