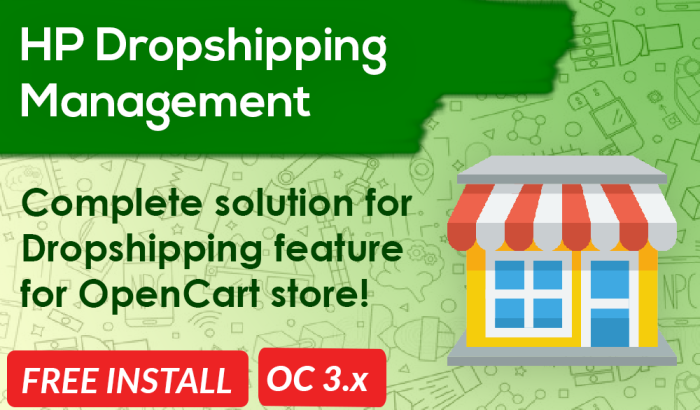 -25 %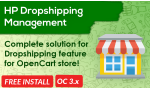 ◈ Dropshipping / Dropshipper Registration & Management


Introducing: Complete Solution for Dropshipping Management for OpenCart Online Stores!

The Dropshiper module for OpenCart was created with attention to all dropshipper needs for Online Business.
So that its features have also been adjusted to meet business processes during dropshipping.


◈ Among The Most Significant Features

1. Any customer can register as a dropshipper
2. Dropshipper can manage their own customers.
3. Admin can print shipping label with Dropshipper shop's logo and shop name.
4. Admin can manage (add/edit/delete) dropshipper from backend.
5. Admin can gives special price/discount to dropshippers
5. Much more (see complete features below)



◈ Journal 3 Compatible

-- Yes! Journal 3 Theme Compatibility Tested!


◈ How can the OpenCart Dropshipper Module Help You?

To get an idea of ​​how the optimal OpenCart Dropshipper module functions, we need to match the perception of what Dropship is.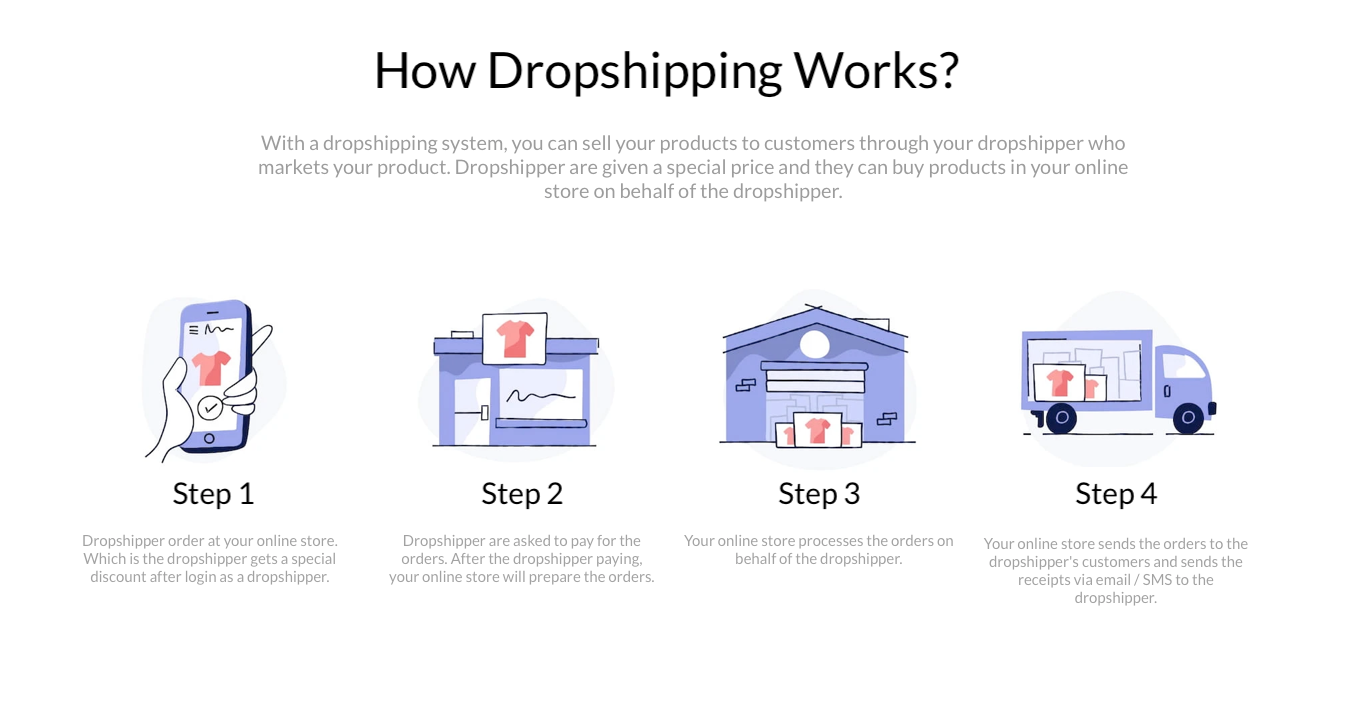 ◈ Step 1
Dropshipper placing an order on your Online Store.
Where Dropship gets a special discount after logging in as Dropshipper



◈ Step 2
Bill to Dropshipper
After paying your Online Store prepare an order



◈ Step 3
Your Online Store processes Orders on behalf of Dropshipper


◈ Step 4
Your Online Store sends Orders to a Customer Dropshipper.
The delivery receipt is sent to the Dropshipper Email / SMS
Furthermore, Dropshipper will send a receipt to the customer.


◈ Now we can translate features that should be exist in a dropships process in OpenCart
Dropshipper Registration
Dropshipper grouping as a specific customer group
Admin sets a special price per product item specifically for Dropshipper with reference to the previous dropshipper's special customer group.
Dropshipper checkout with shipping addresses to customers and shippers from their own stores.
Admin sends goods to Dropshipper customers.


Of the five processes above, there are several related features that are very urgent to hold as well, such as Dropshipper's ability to manage all of its own customers.
How does this OpenCart Dropshipping Module Solve Problem Above?
See the features of the HP Dropshipping module for OpenCart, as follows.
1. Setting the Dynamic Dropshiper Feature on the OpenCart Admin page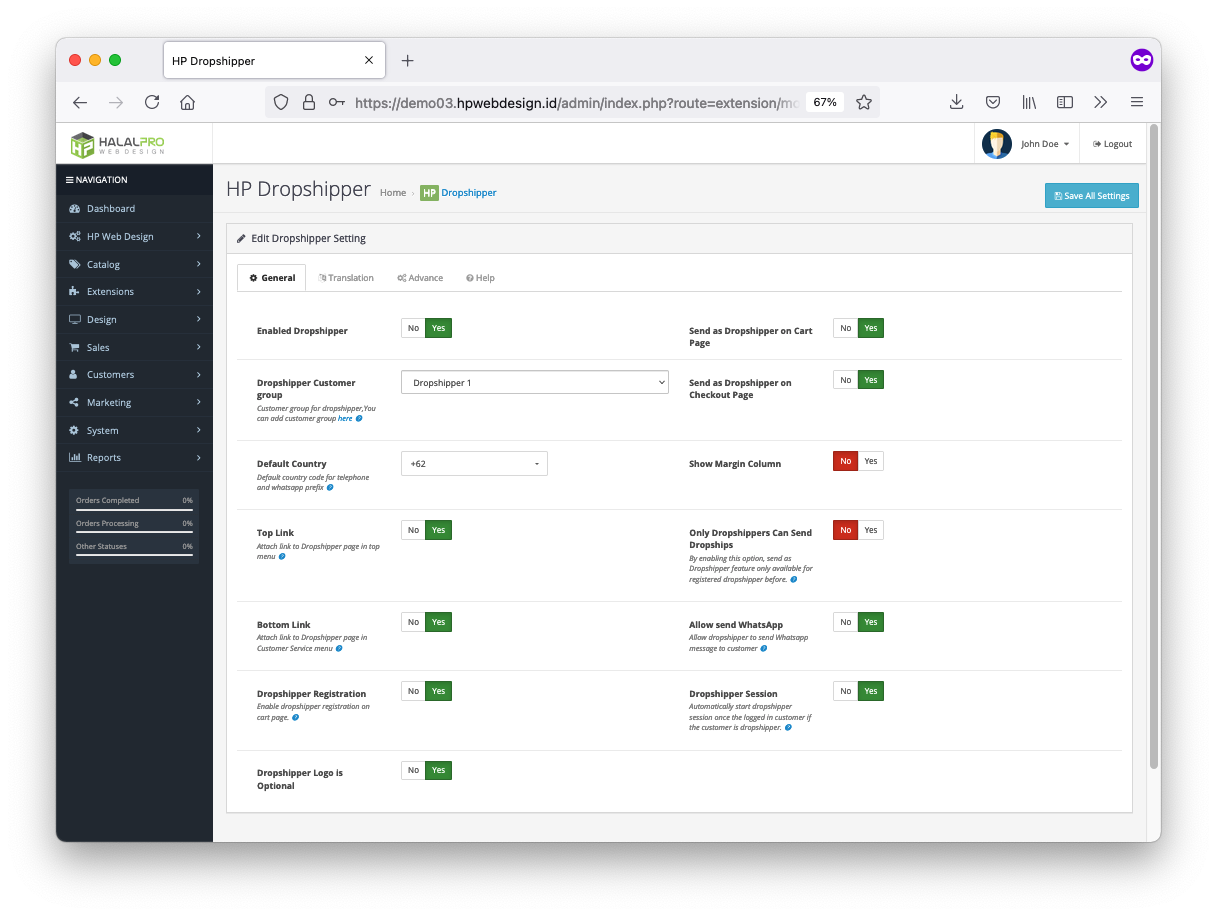 The OpenCart Dropshiper Feature Settings page
2. Registration options as a dropshipper on the Registration page
This may not sound special, but it is very important. This will naturally give potential customers the option to become a dropshipper.

In addition, the Dropshipper registration process also has complete data such as Whatsapp number, valid email, and even upload identity card if desired.

Dropshipper is also automatically grouped in certain customer groups. Which is useful when you want to give special prices to Dropshipper groups.
Register for a new dropshiper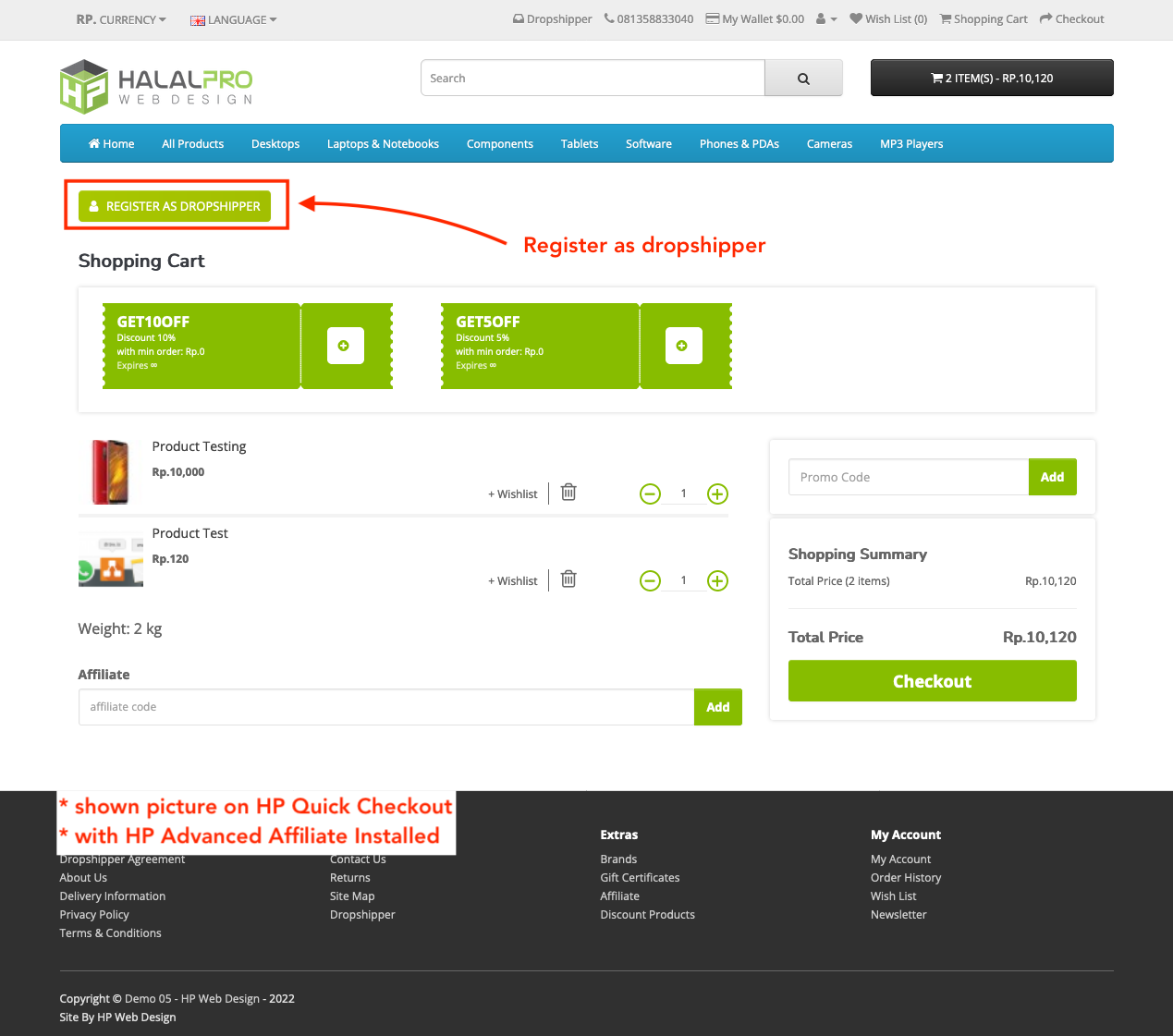 Another way of dropshipper registration on HP Quick Checkout
3. Dropshipper Profile
The Dropshipper Module for OpenCart also provides a droshipper profile. Where every Dropshipper can have a profile exclusively. Includes Store Name, Phone / Cell Phone Number and Address.
This will be used later when printing shipping labels. Where the sender's label is the Dropshipper's Profile.
4. Adjust Price Margin on Each Product
Dropshippers can set a price margin for each product purchased, so they can maximize profits and adjust prices to stay competitive.
The margin input will be accumulated and will be displayed on the order page, so the admin can adjust it again.
5. Customer Dropshipper Management
Correctly according to the title. In this OpenCart Droshipper module, every dropshipper can manage their own customers easily and quickly.
Dropshipper just add on the go as needed, for example when checkout products for customers on the Shopping Cart page. Or more fully, via a special page for customer dropshipper management.
6. Admin Dropshipper Management
In this OpenCart dropshipper module, you can freely see how many dropshipper you have.
Download all the dropshipper data and even message them one by one via the Whatsapp button provided.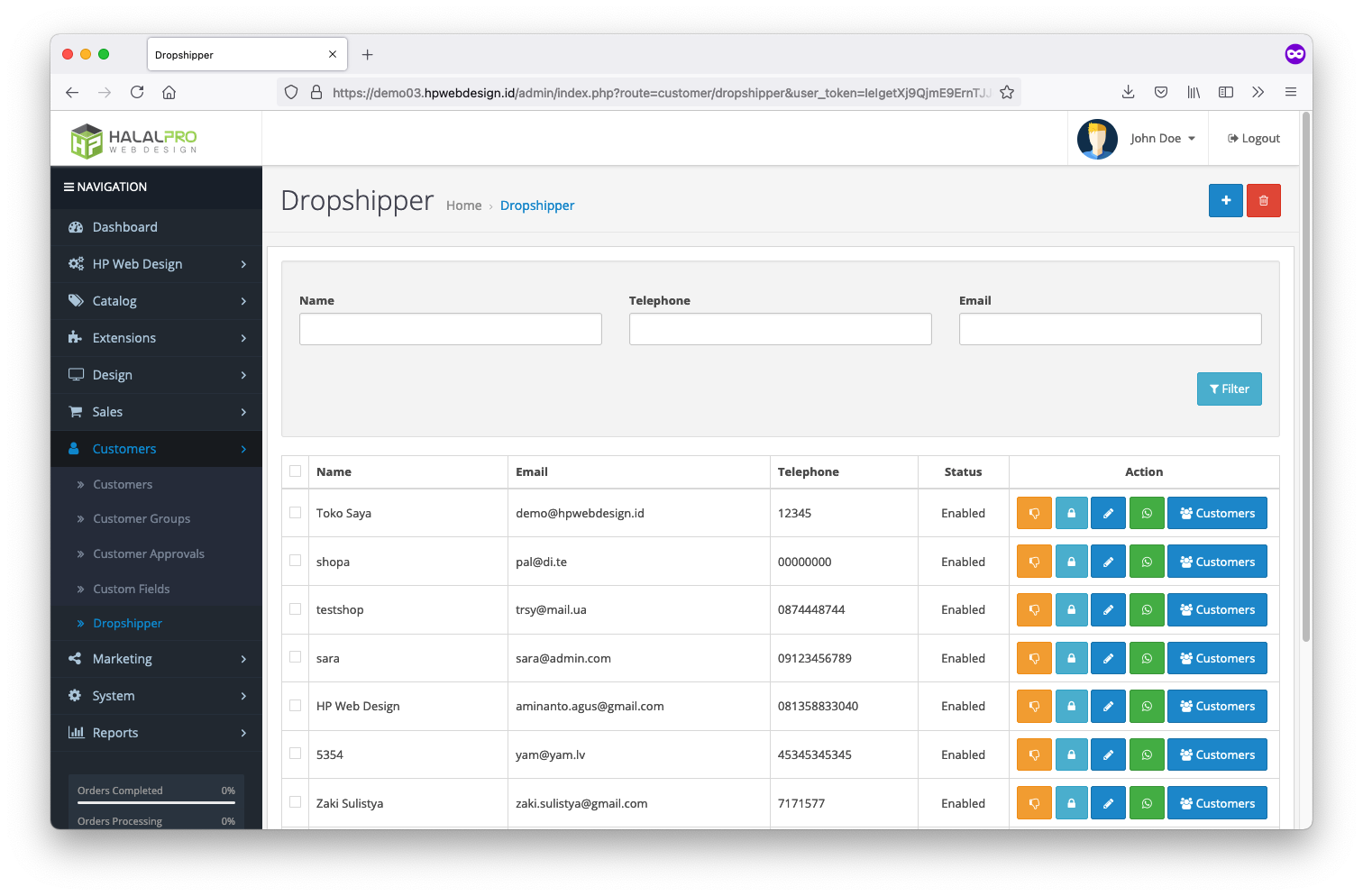 Database of all Dropshipper
7. Give Special Discounts to Dropshipper
You can give special discounts to registered dropshipers.
After registering a dropshipper in your OpenCart online store, it will be included in a special customer group of your choice on the settings page.
Then you just give a special discount for the dropshipper on each product item.
When the dropshipper logs in, he automatically sees the discounted price >> Their checkout rate is higher.
Gives Special Dropshipper Discount
Then the dropshipper can see the discounted price when logged in. As follows:
Special Dropshipper Prices on OpenCart Online Stores
8. Special Dropshipper Shipping Label
This feature will make this OpenCart drophiper module different. You can print shipping labels according to the dropshiper profile that has been stored previously. Complete with Logo, Store Name and Dropshiper Address.
Dropshipper Registration and Management OpenCart
FREE INSTALL!
Every purchased extension is automatically included with FREE installation service.
Specification
License

Single Domain License


Compatibility

3.0.3.8, 3.0.3.7, 3.0.3.6, 3.0.3.3, 3.0.3.2, 3.0.3.1, 3.0.3.0, 3.0.2.0, 3.0.1.3, 3.0.1.2, 3.0.1.1, 3.0.0.0


Documentation
Multi-lingual Support

YES

Multi-store Support

YES

Override Core Files

NO
Every purchase of an OpenCart module at HPWD you automatically get:
Free updates forever

Free installation on your OpenCart website

(*)


Technical support up to 12 months




See technical support terms: Support Policy

(*) Installation might be charged for complex extension such as social media integration, API setup, etc.