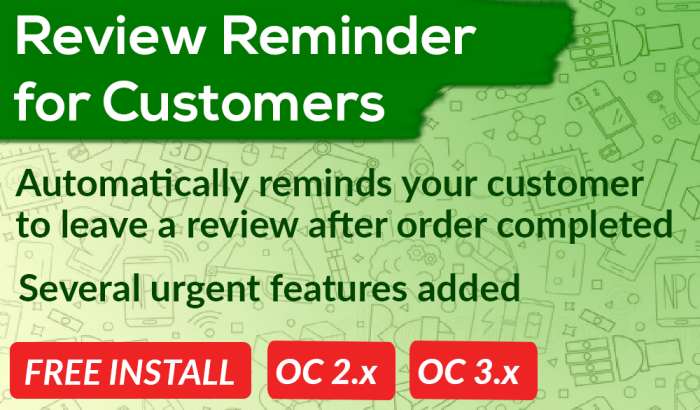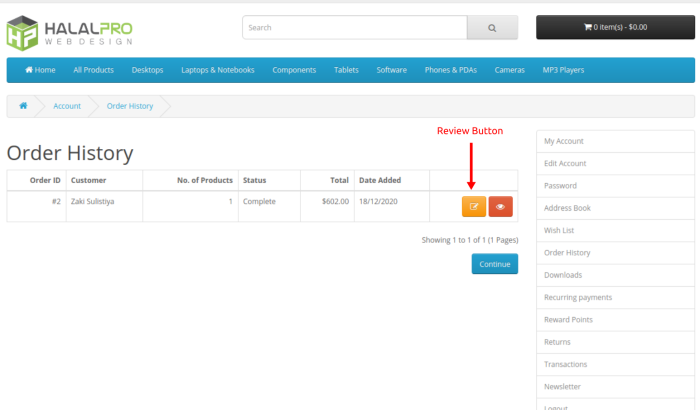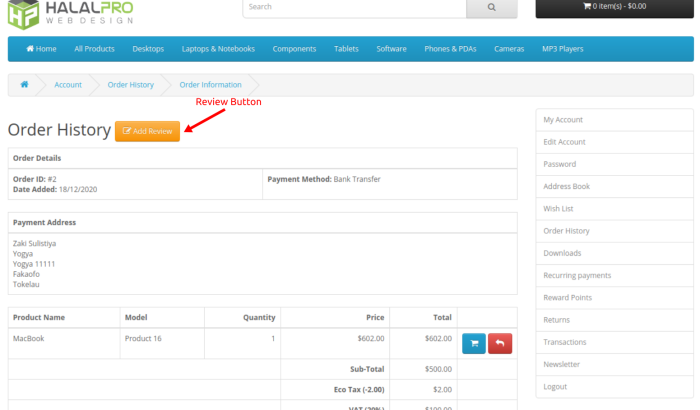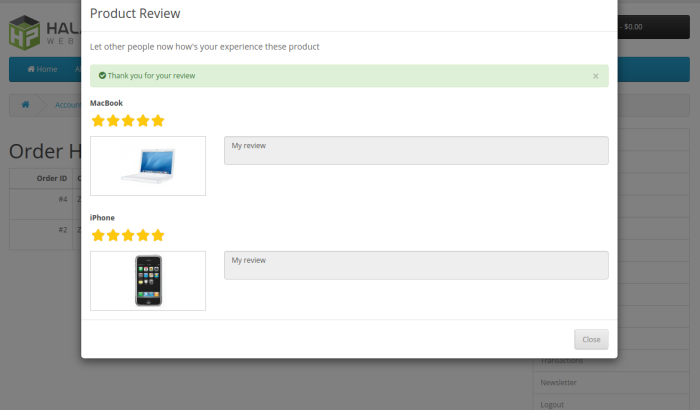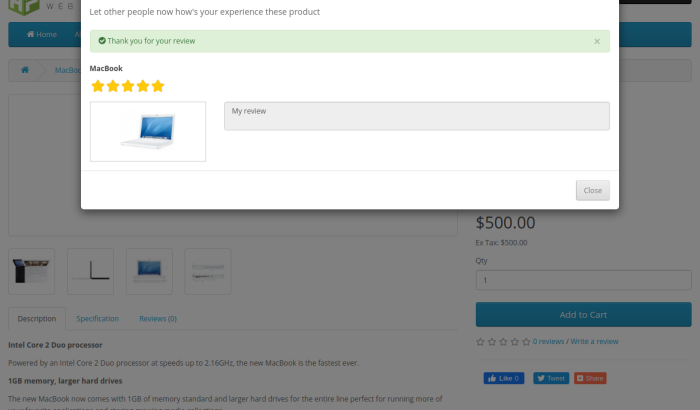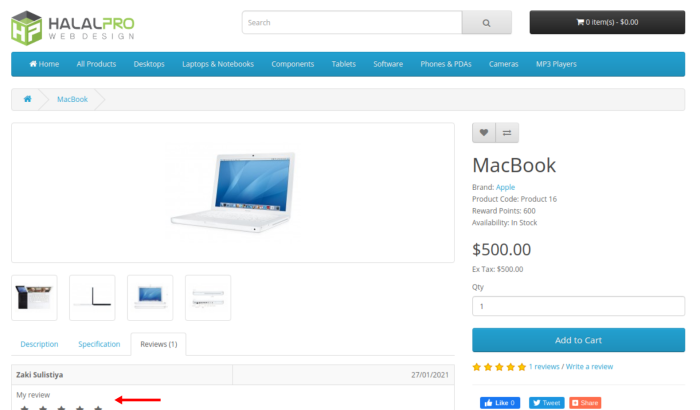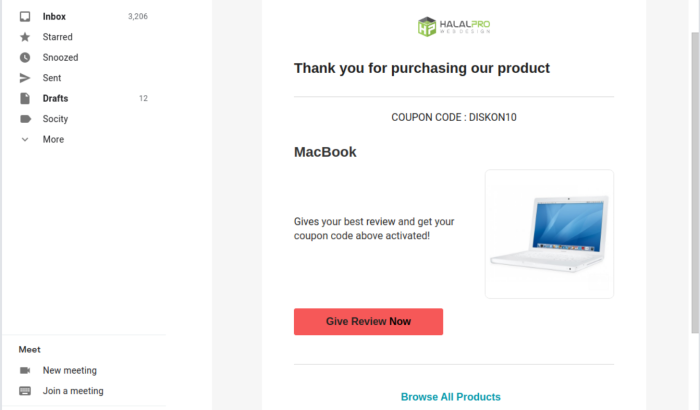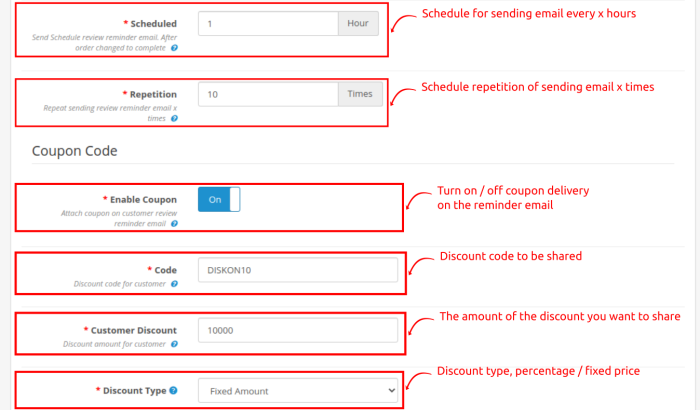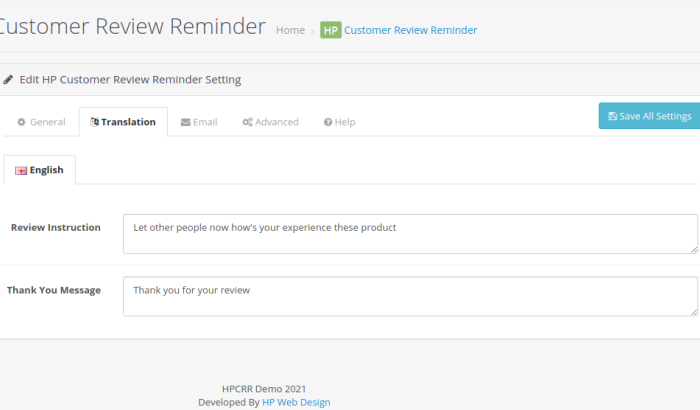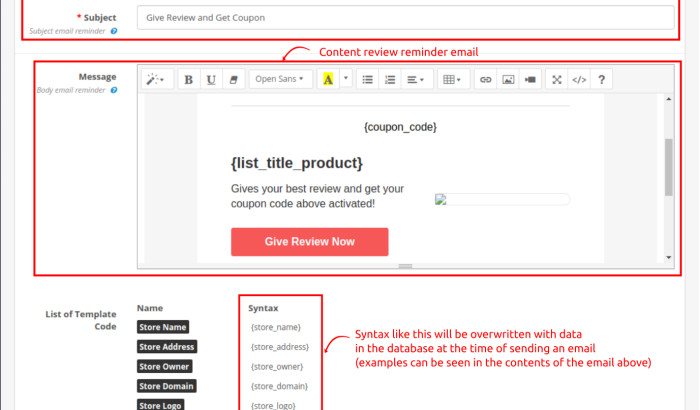 -25 %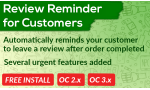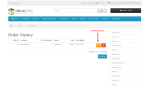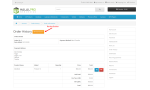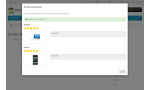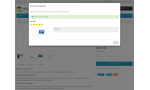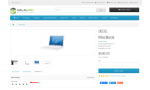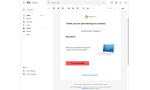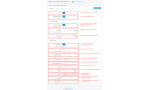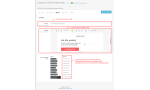 One way to attract new customers is by displaying reviews from other customers who have bought our products, so that new customers can be more confident in buying. Opencart has also provided a review form on its product page by default, however, it is not uncommon for the Opencart review form to be missed and not filled in by customers.
The reason may be because the location of the review form is almost hidden, and usually when online goods purchased by customers arrive and are received, they will try the item first and forget about other things, one of which is forgetting to provide a review.
For this reason, we as the developer of the Opencart online store want to solve this problem by developing a module that functions as a reminder to provide reviews, this module will work by sending an email reminder to customers who have not reviewed the products they have purchased. .
The process of filling out reviews is also easier because it can be done on the order history page, without the need to visit each product page. For a full explanation, we will submit it below, before that we will share some of the excellent features of this HP Customer Review Reminder module:
Key Features OpenCart Review Reminder Module
Displays a dedicated review dialog for each completed order.
Customers will receive a reminder email if they haven't submitted a review.
Customize review email reminders to make them more personal and fit your brand.
Discount coupon feature that can be sent by email reminder.
Customizable review reminder email delivery scheduling.
etc
Front Page Preview
By installing this module, a special review button will appear on the order history page, this review button will only appear on every order that is complete and includes products that have never been reviewed.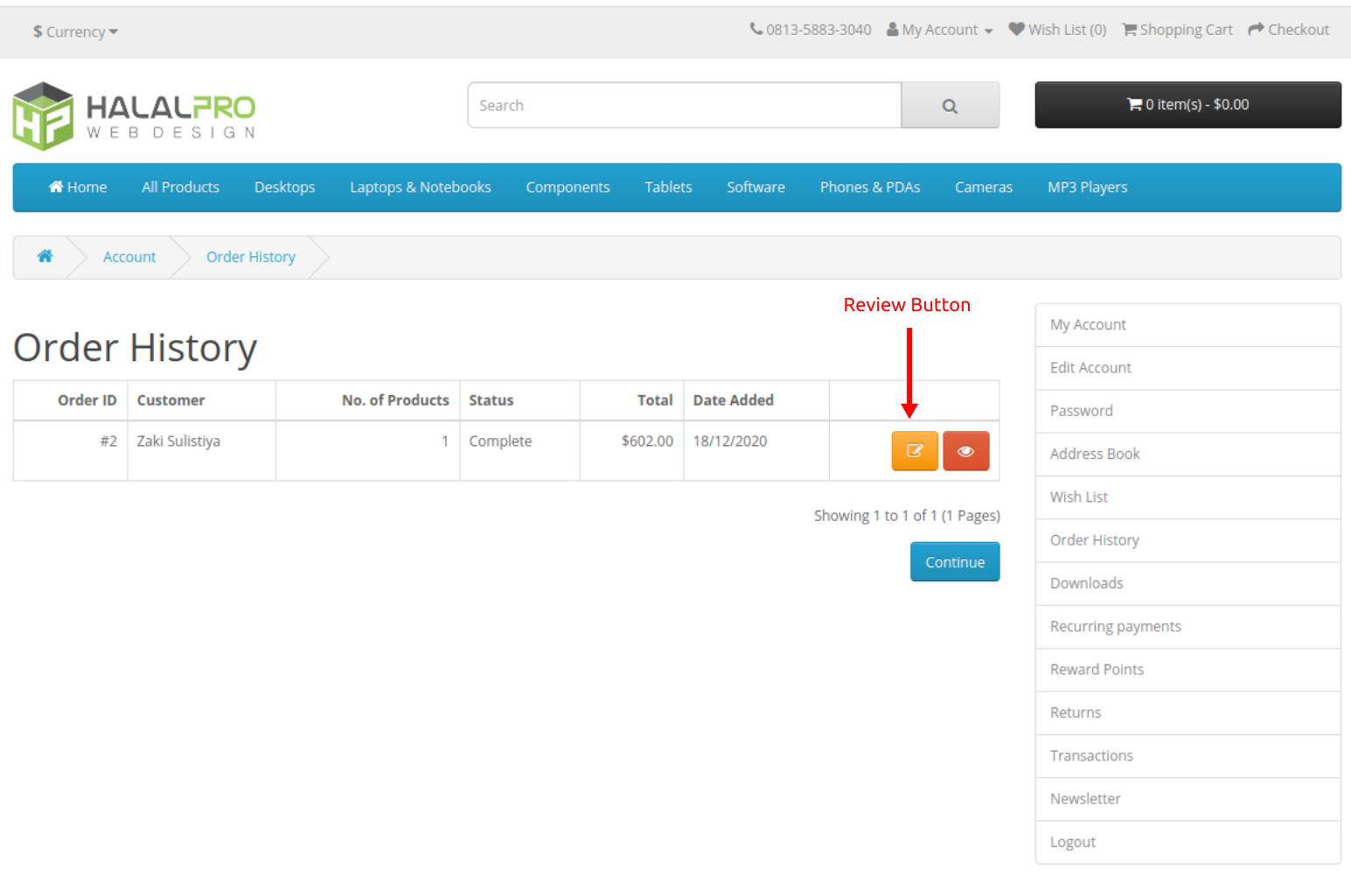 On the order detail page it's the same, there will also be a review button which will only appear in the conditions I explained earlier.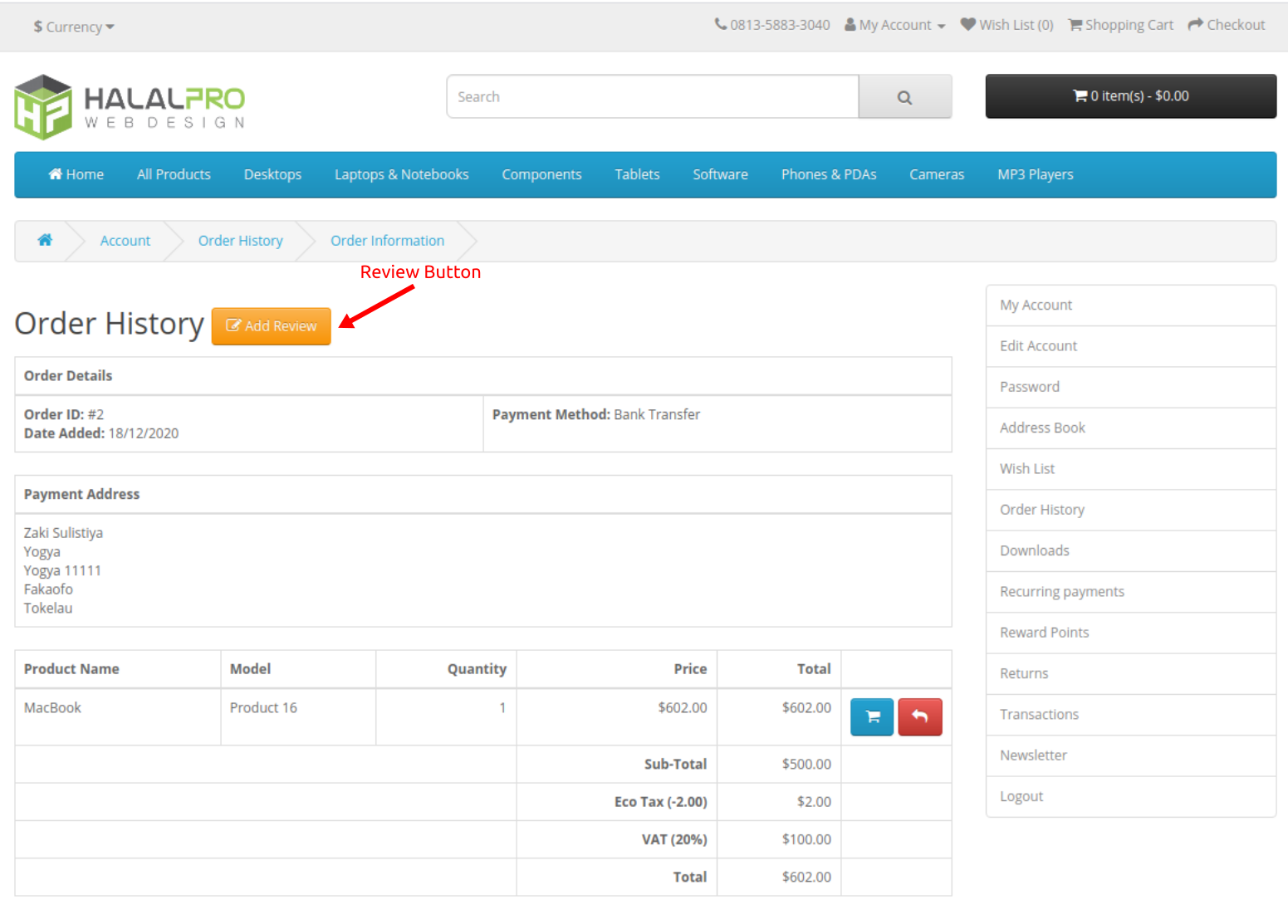 When the review button is clicked, a dialog will appear that displays a review form for each product ordered. Customers are welcome to fill out and submit reviews for the products they have purchased.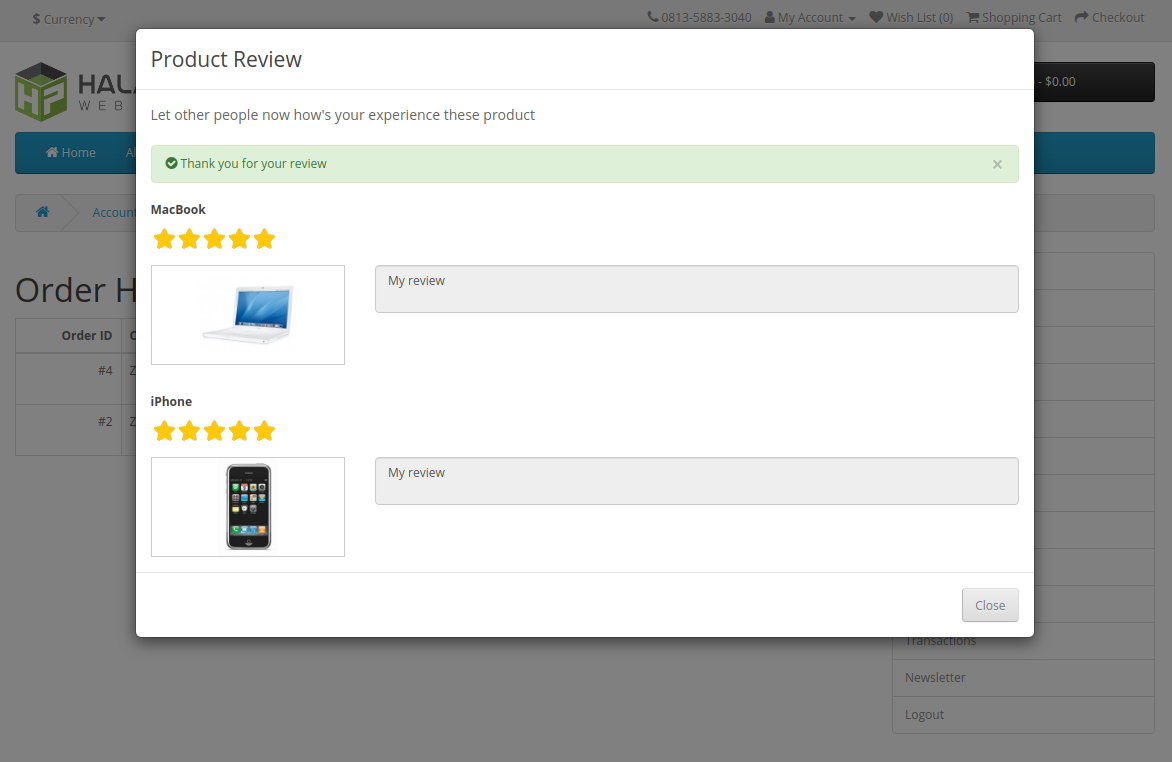 Not only on the order history page and in the order details, the product page also displays a dialog for filling out a review, this dialog will only appear if the customer has purchased a product but has not submitted a review.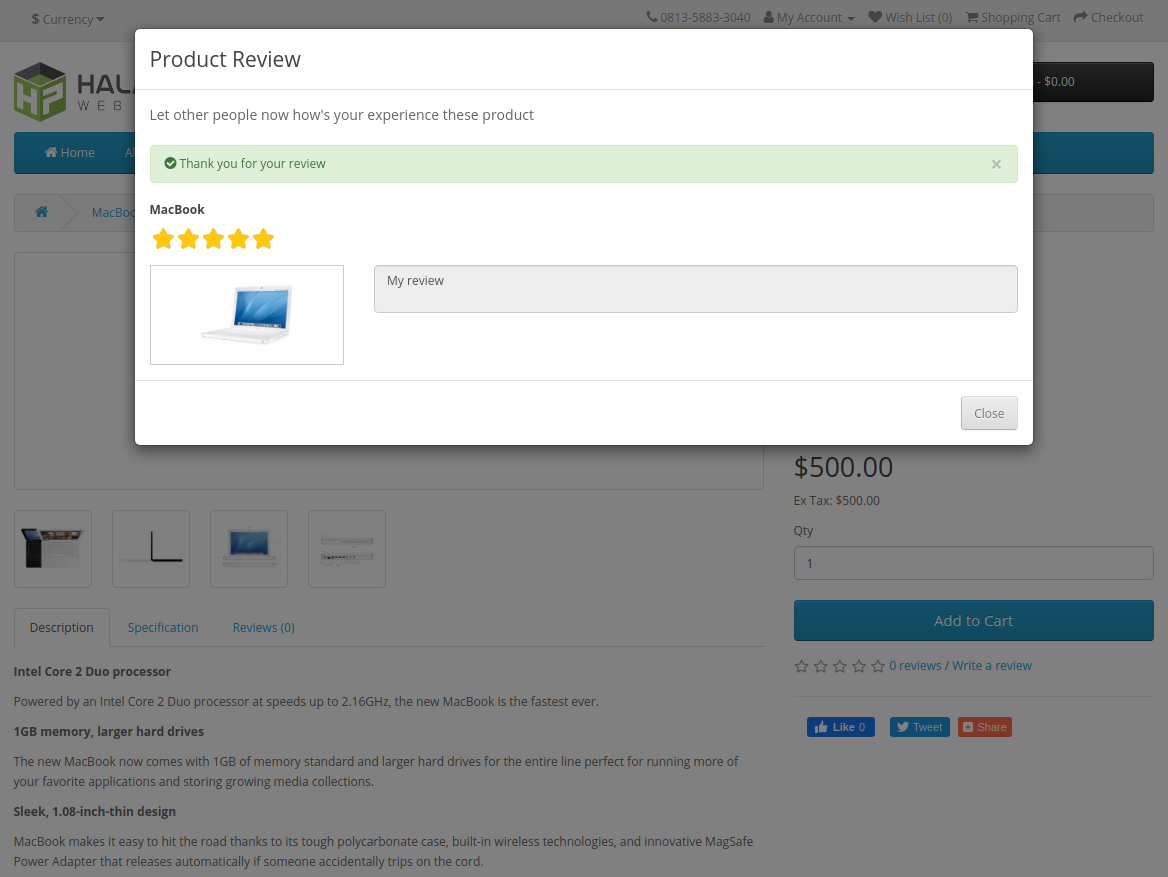 All reviews that have been entered must go through admin approval first, and if they have been allowed, the submitted reviews will appear on their respective product pages, as you can see in the image below.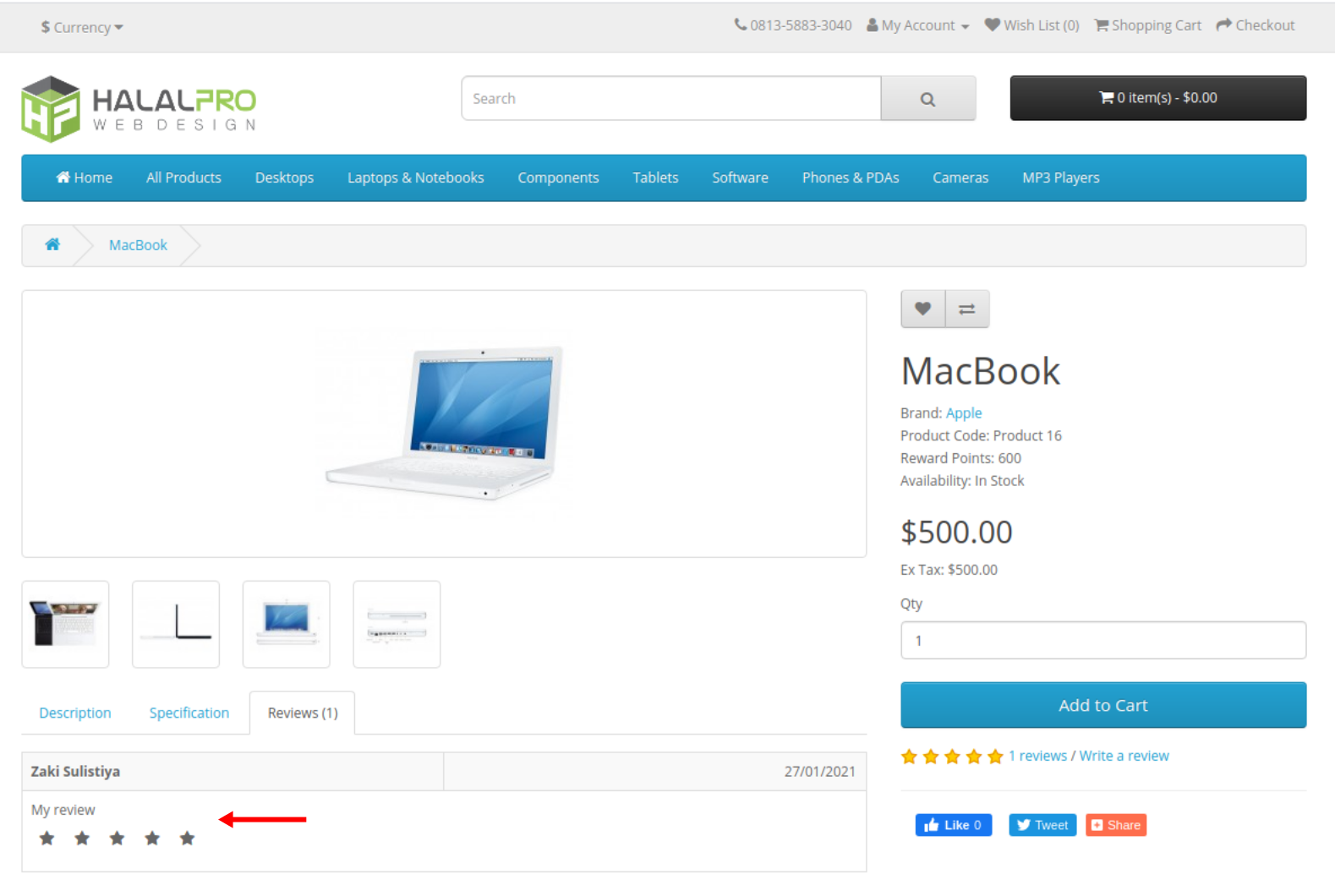 The image below is an example of a scheduled reminder email, which will only be sent if the customer has not submitted a review. Customers can simply click the "Give Review Now" button to log in immediately and submit a review.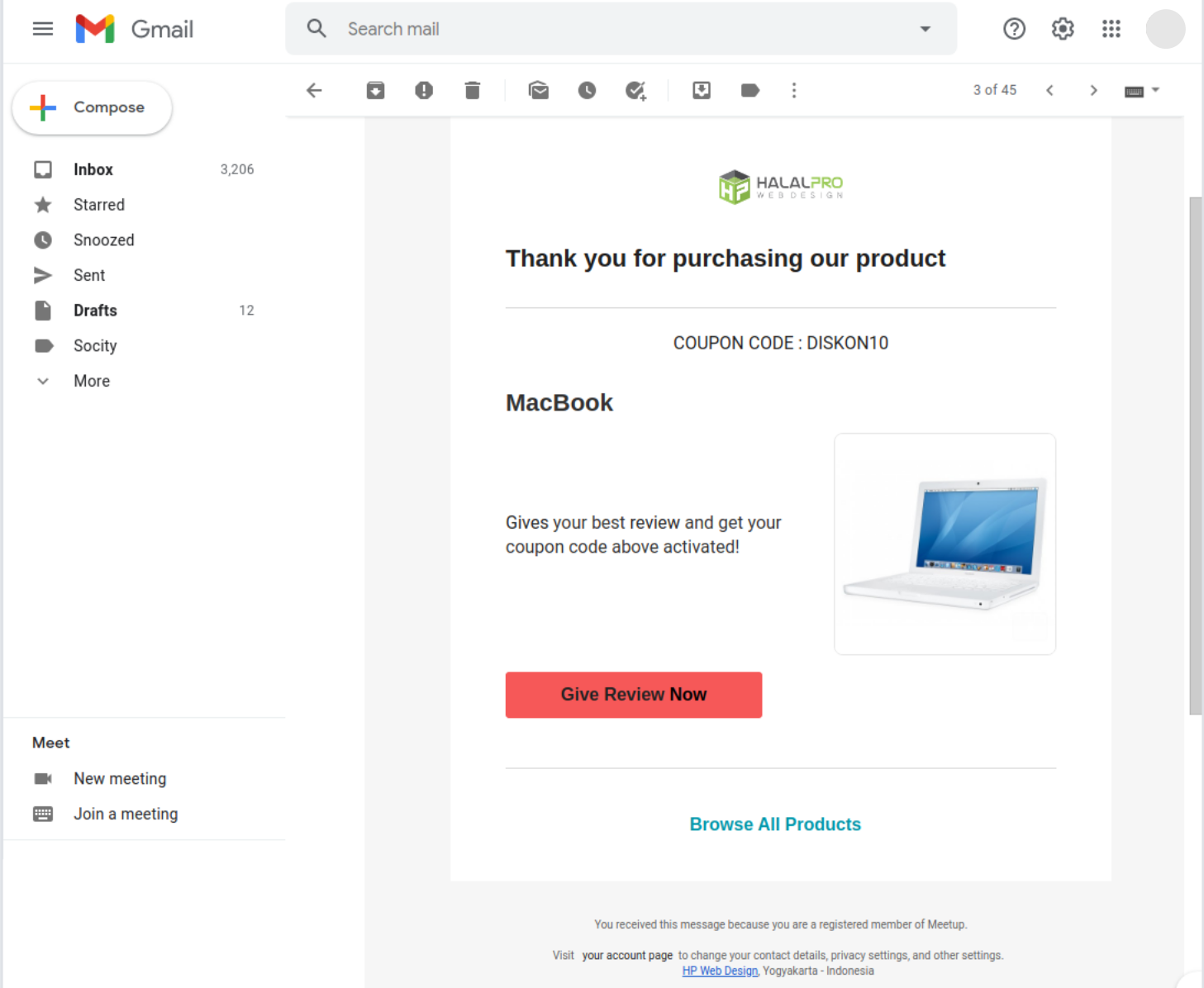 Admin Page Preview
After discussing the front of our shop website, I will then explain what we can manage in the admin section, you can read more below.
To access this module settings is very easy, please find and click the HP Customer Review Reminder menu on the set menu on the left.
Tab General
After clicking on the HP Customer Review Reminder menu, it is immediately taken to the general tab, and a set of entries and buttons is presented as shown below. You only need to read the text on the image to explain the function of each button and its form.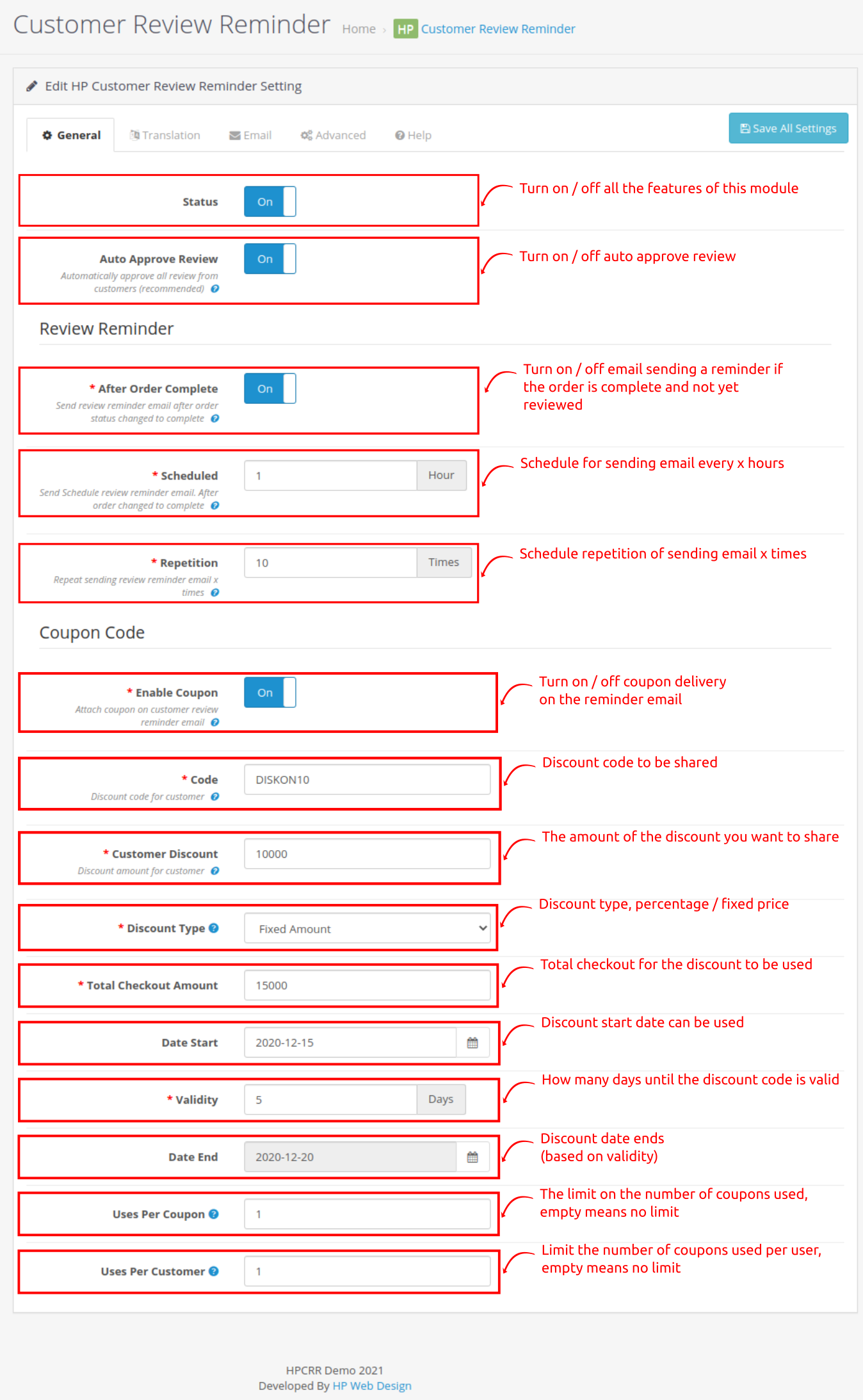 I hope the image above is sufficient to explain what each button does and what it means. A little extra from me, besides turning on the status button, I suggest that you also have to activate auto approve, and the button after the order is complete, so that this module can function optimally and you don't have to bother allowing reviews that have been submitted by customers.
Tab Translation
The translation tab in this module functions to set the sentences and language that will be displayed on the front page, for now we only provide review instruction field, and thank you message field, you can see the two texts in the review dialog that we discussed earlier.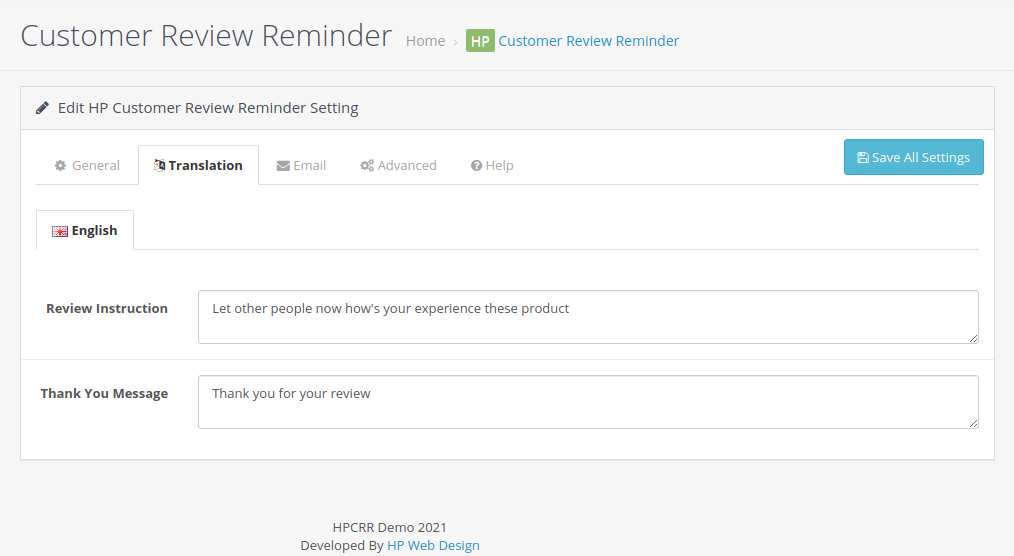 Tab Email
Almost the same as the translation tab, in this email tab you can set sentences and language for review reminder emails that will be sent to customers. You can read further explanation in the image below.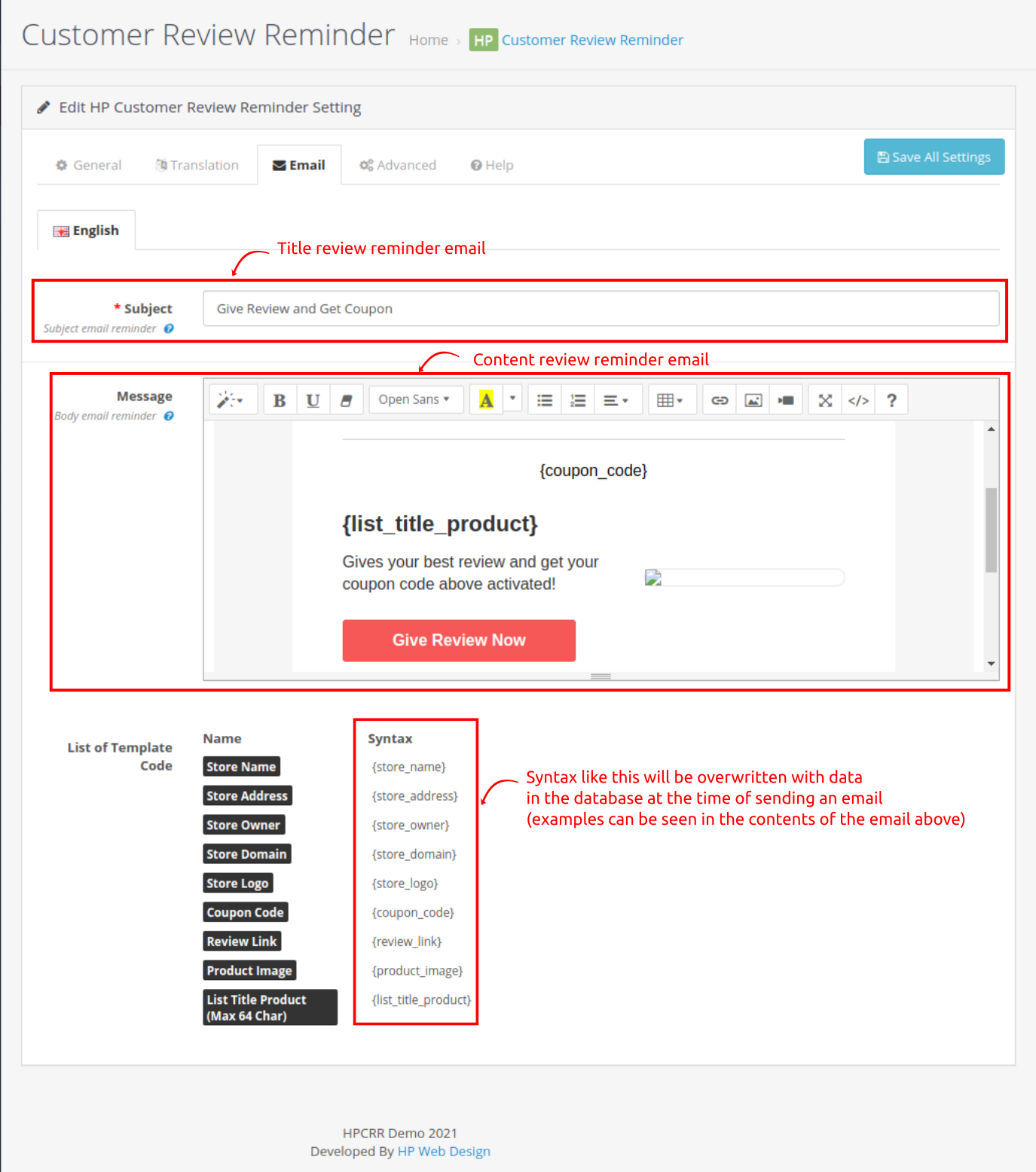 Tab Advanced
Next is the advanced tab, here will be given additional information and actions so that this module can send email, either manually or automatically. The manual way is to click the "send review reminder" button and the automatic way to paste the script that has been provided to the cron job on your cpanel hosting page. By doing one of the methods above, this module will send an email to the customer if the requirements are met (such as the customer has not done a review, etc.).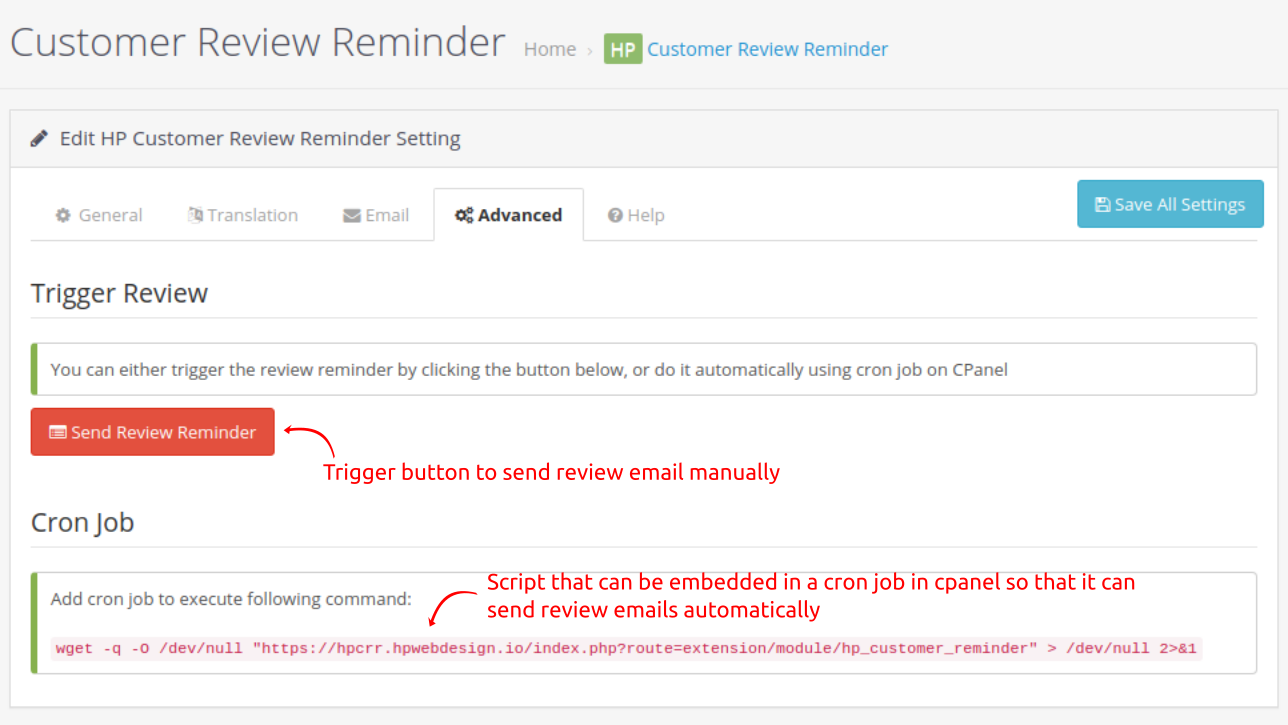 Customer Review Reminder Opencart
FREE INSTALL!
Every purchased extension is automatically included with FREE installation service.
Specification
License

Single Domain License

Compatibility
3.0.3.8, 3.0.3.7, 3.0.3.6, 3.0.3.3, 3.0.3.2, 3.0.3.1, 3.0.3.0, 3.0.2.0, 3.0.1.3, 3.0.1.2, 3.0.1.1, 3.0.0.0
Documentation
Multi-lingual Support

YES


Override Core Files

NO
Every purchase of an OpenCart module at HPWD you automatically get:
Free updates forever

Free installation on your OpenCart website




Free Technical support up to 12 months




See technical support terms: Support Policy

(*) Installation might be charged for complex extension such as social media integration, API setup, etc.


Price in reward points: 100