Reseller Registration & Management OpenCart
Extension details
| | |
| --- | --- |
| License | Single Domain License |
| Compatibility | 3.0.3.7, 3.0.3.6, 3.0.3.3, 3.0.3.2, 3.0.3.1, 3.0.3.0, 3.0.2.0, 3.0.1.3, 3.0.1.2, 3.0.1.1, 3.0.0.0 |
| Documentation | |
| Multi-lingual Support | YES |
| Multi-store Support | YES |
| Override Core Files | NO |
The OpenCart Reseller Management Module is a module for OpenCart online stores that is used for reseller management, both starting registration, reseller validation, communication with resellers, and so on.

Like managing reseller databases in general to applying multilevel discounts for resellers according to the group of resellers created.
How does it work?
This module works by providing the reseller registration feature on the front page and the reseller management page on the admin page.
Reseller Registration workflow
Prospective resellers register on the web with a special page for reseller registration.

At this stage prospective resellers are also required to upload scans / photo ID cards, salary / income slips, and other file uploads.

Also details regarding personal data to reseller prospective social media.

Prospective resellers are also required to choose the type of reseller that has been prepared previously.

In addition to registration via the form, prospective resellers can also click on the Whatsapp, FB, SMS and Telegram buttons which are directly connected to the Admin.

Then the admin can help prospective resellers to register on the web, by adding prospective resellers via the Admin management page.

After registration, the admin will receive a notification if there are prospective resellers who register.

Admin can check the completeness of the form and can directly approve or contact the reseller via the Whatsapp button to complete the data.

Admins can create special product discount schemes for various types of resellers.

After being approved by the Admin, the Reseller can log into the website and checkout the product at a discounted price.
Preview
If you buy this module and use standard settings, think it will look like the following.
There is a form with an Indonesian / English interface according to the language choice on the website.
For the market in Indonesia, we have also provided reseller registration features via Social Media.
To anticipate resellers who are lazy to fill out forms on the website.
The title and description of the reseller registration page can be changed after your referral to a prospective reseller.
Also help text in the file upload column.
You can change it to give prospective resellers direction to upload whatever files are needed.
Admin Page

You can easily see your current reseller database. Also sorting to see the completeness of their registration. Can even chat to resellers directly after they are registered.
2. Form Registrasi Reseller
Intuitive reseller Registration Form on the front page.
Prospective resellers can register via Chat Whatsapp, Facebook and Telegram.

Whatsapp Chat Templates can be replaced.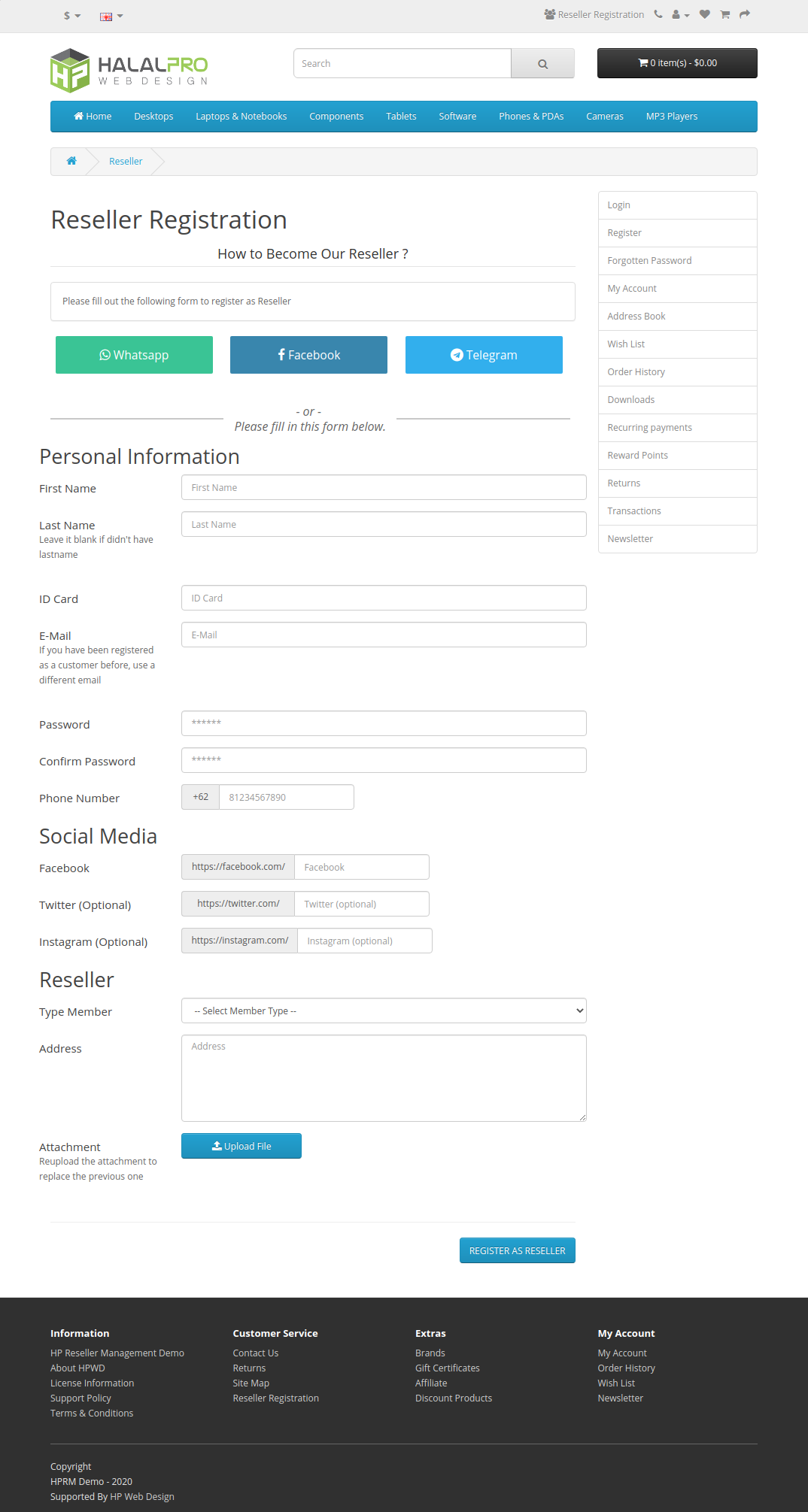 3. Whatsapp Langsung ke Reseller
4. Automatic Grouping Resellers
Automatically group resellers to specific customer groups according to the settings. Furthermore resellers who have joined the Customer Group can be given special discounts when purchasing products.

Reseller database management is easier with this module.