Frequently Asked Questions (FAQs) OpenCart
Product Code: HPFAQS
Availability:

In Stock
OpenCart Frequently Asked Questions (FAQs) module was created for the needs of openCart users who need advanced settings on the FAQ page. This page, as the name implies, is used to display frequently asked questions to provide practical content for visitors. So, the content of the questions and answers in the FAQ is the main thing.
FAQs are very important to support the information base for users.
Display Module FAQ
FAQs module display itself is made in such a way as to be user friendly for customers. The collapse and span view models save more space for customers, especially if the FAQ content is long enough. So as to avoid scrolling.
The per item point view model is also an advantage. Because customers can immediately search for information quickly.
OpenCart Version Compatibility - OpenCart Module FAQs
This FAQ module for OpenCart can be used in the following versions of OpenCart 1.5.x:
OpenCart 1.5.4
OpenCart 1.5.4.1
OpenCart 1.5.5.1
OpenCart 1.5.6
OpenCart 1.5.6.2
OpenCart 1.5.6.3
OpenCart 1.5.6.4
The following versions of OpenCart 2:
OpenCart 2.0.0.0
OpenCart 2.0.1.0
OpenCart 2.0.1.1
OpenCart 2.0.2.0
OpenCart 2.0.3.1
OpenCart 2.1.0.x
OpenCart 2.2.0.0
OpenCart 2.3.0.x
OpenCart 3
Specification Module FAQs for OpenCart
Easy installation. There is a graphical interface for installing an FAQ table.
Can add more than one FAQ category and each category can have its own item / AQ (answer - question).
The FAQs category is displayed on the front page as an icon and title so that it is easy to select.
The presentation uses an accordion that can be widened so that it saves space and does not need a lot of scrolling.
Does not replace native OpenCart files (VQMOD / OCMOD based)
Supports multimedia content. Add multimedia content to your FAQ
SEO Friendly URLs and Pages. Per FAQ page has been optimized according to SEO best practices and SEO Friendly URLs. The page name can be changed as needed.
Supports multi language content.
Front Page Preview - Module FAQ for OpenCart
Home page module FAQ
FAQs Category list on the sidebar. Clicking on each FAQ category will display a list of FAQ items.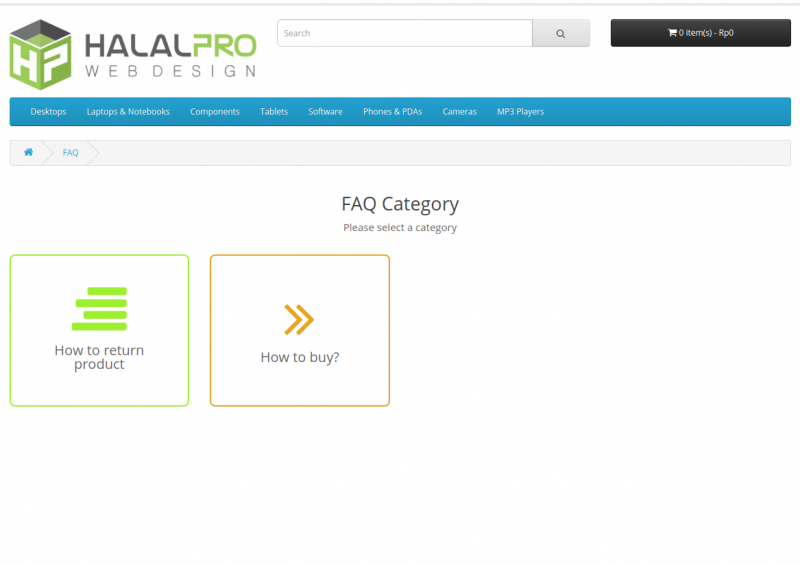 User can select category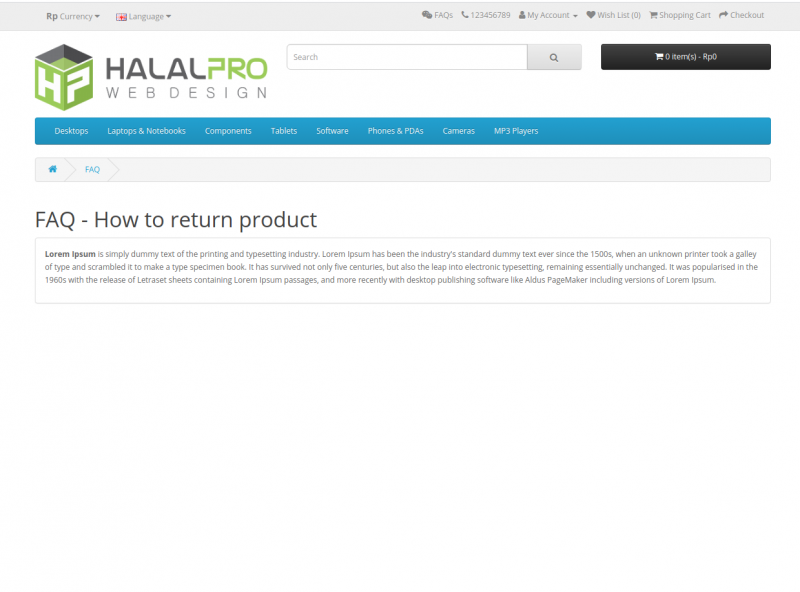 Displays a list of questions based on the selected category

Link to a list of FAQ categories on the Top Menu
Back Page Module FAQs for OpenCart
Management FAQs
Add, Edit, Delete FAQs Category
Quickly Enable / Disable a category FAQs by clicking on the check button.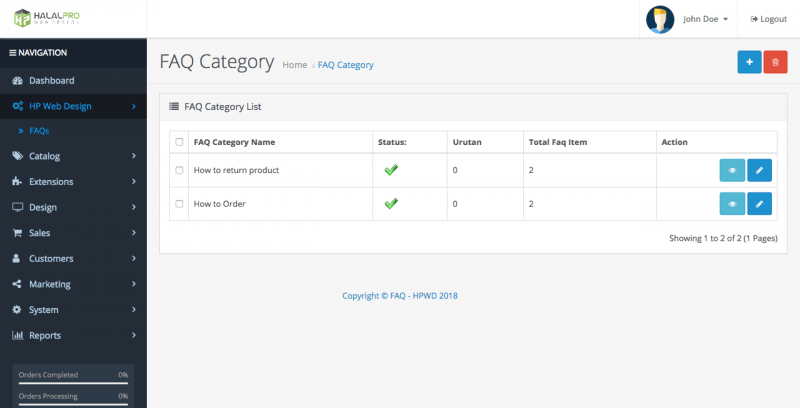 Management category FAQs
Edit FAQ Category
Add multilingual FAQ content
Add meta keywords and meta descriptions for better SEO
Add multimedia content via a text editor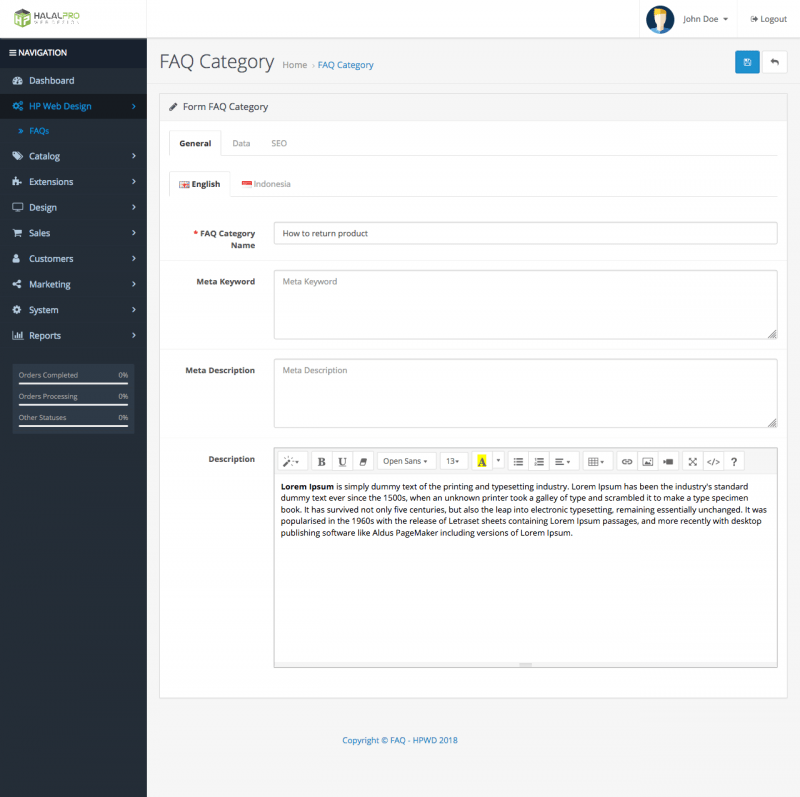 Edit category FAQs
DATA tab
Change category status enable / disable
Add category icon displayed on the front page
Add color to the categories displayed on the front page
Adjust the order of the categories displayed on the front page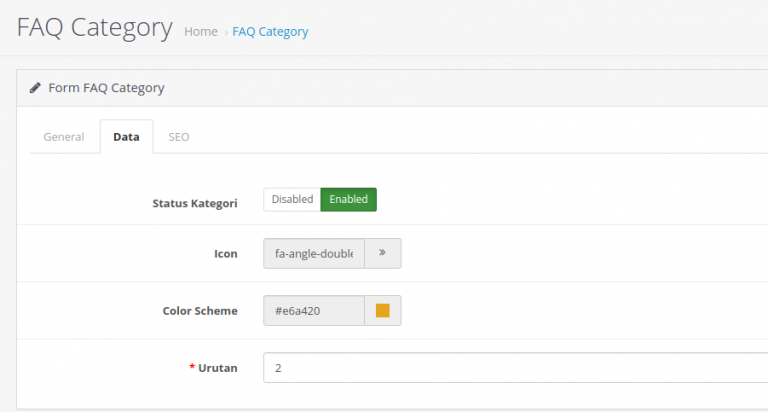 OpenCart FAQs Category Data
SEO URL Tab
Add the SEO URL for each FAQ category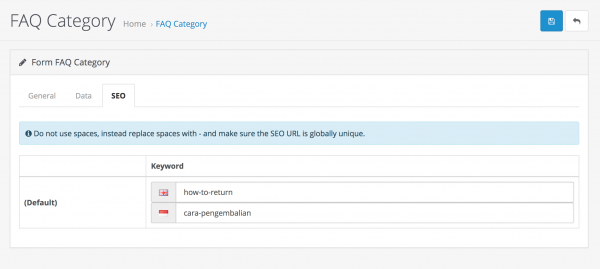 SEO Url FAQs
Management item FAQs
Easily add unlimited FAQs Category items
You can add multimedia content per FAQs Category item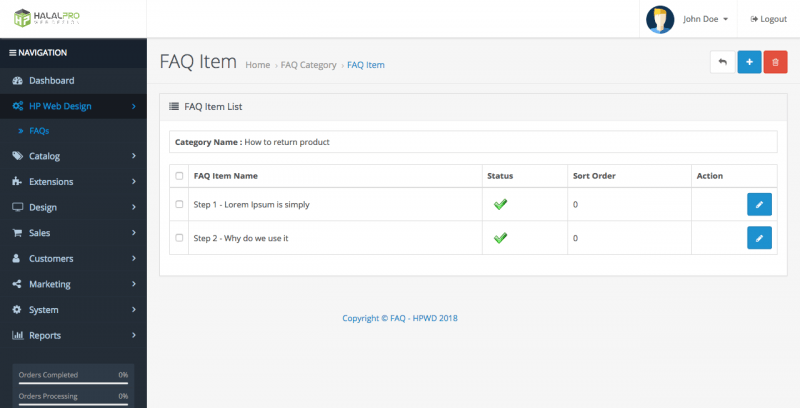 Add a FAQs Category item