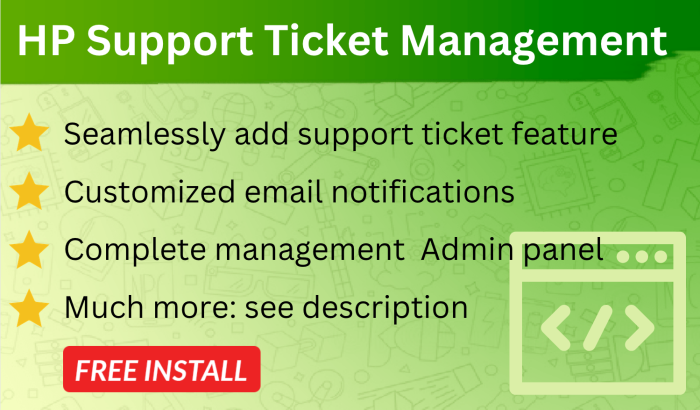 NEW -43 %
HP Support Ticket Management OpenCart
Seamlessly add ticket management system on your OpenCart store
Get better experience by providing support ticket for customers.
Suitable for ecommerce that offer product/service and need intents support for customers.
Key Features for Support Ticket OpenCart
Provide ticket management system for Agent and Customers both frontend and backend
Customer can create ticket that related to specific product in an order
Special ticket management page provided for customer on frontend.
Automaticaly rolling the agent If there are several agents.
Automaticaly send email to Agent upon ticket creation : as well as customer as ticket receipt.
Drag and drop or upload attachment for every message for Agent and Customer.
Admin can create custom ticket for customers via ticket management on Admin Dashboard
Complete ticket management on Admin Dashboard
Fully customized email notification features both for customer, agent and admin.
Much more : see description.
HP Support Ticket Management OpenCart
FREE INSTALL!
Every purchased extension is automatically included with FREE installation service.
Every purchase of an OpenCart module at HPWD you automatically get:
Free updates forever

Free installation on your OpenCart website

(*)


Technical support up to 12 months




See technical support terms: Support Policy

(*) Installation might be charged for complex extension such as social media integration, API setup, etc.