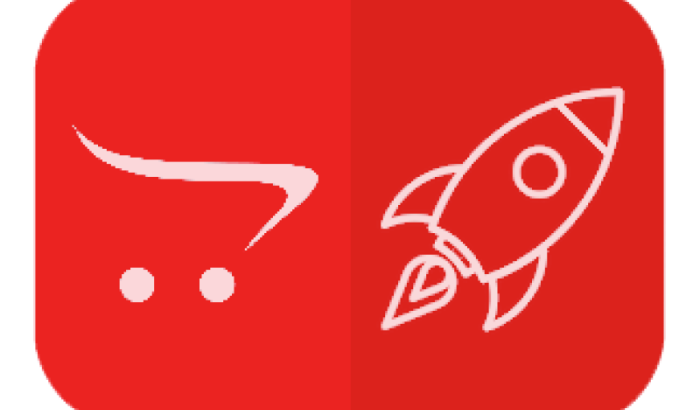 NEW -100 %
HP Installment Simulation
The Bank Installment Simulation for OpenCart is a specialized module designed for the OpenCart e-commerce platform. This module allows customers to calculate bank installment estimates when they choose the option to pay in installments. With seamless integration into your OpenCart store, this module provides a more transparent and informative shopping experience for customers who wish to take advantage of installment payment facilities offered by various banks.
The main function of this extension is to add installment and cash payment options to your opencart store
You can add banks and installment schemes as needed
Key Features
There is information on the product page about the installment scheme that your customer must pay, this will be displayed on all your products
You are free to put installment information on the product page by changing the jquery / javascript selector in the setting
The item price scheme displayed will be calculated automatically by the system based on the price of each item
By providing clear information about installment payment options, the module boosts customer confidence and can encourage them to complete their purchases.
With the Bank Installment Simulation for OpenCart, your store will be more than just a shopping destination. It will be a valuable source of information for customers seeking to make informed and financially planned purchasing decisions. This module helps build a strong relationship between you and your customers while enhancing the convenience of online shopping.
Main Settings
Enable and disable all HP Installment Simulation features
Dynamic installment simulation information placement on product page

Management Bank Simulation
You can add bank simulation as you wish
You can show and hide the simulation bank by changing its status here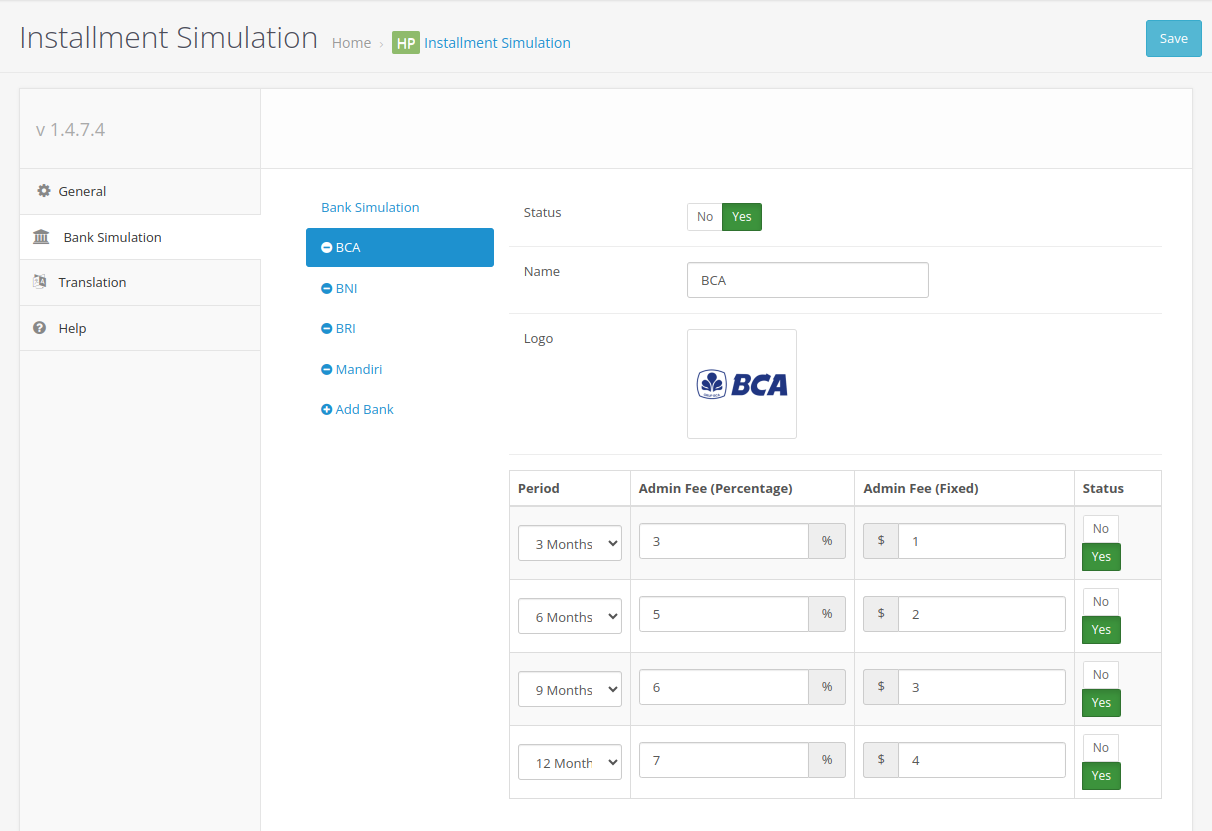 Customize Text / Message by Language
Translation settings to make it easier for your international customers
If you need help with language translation, please contact us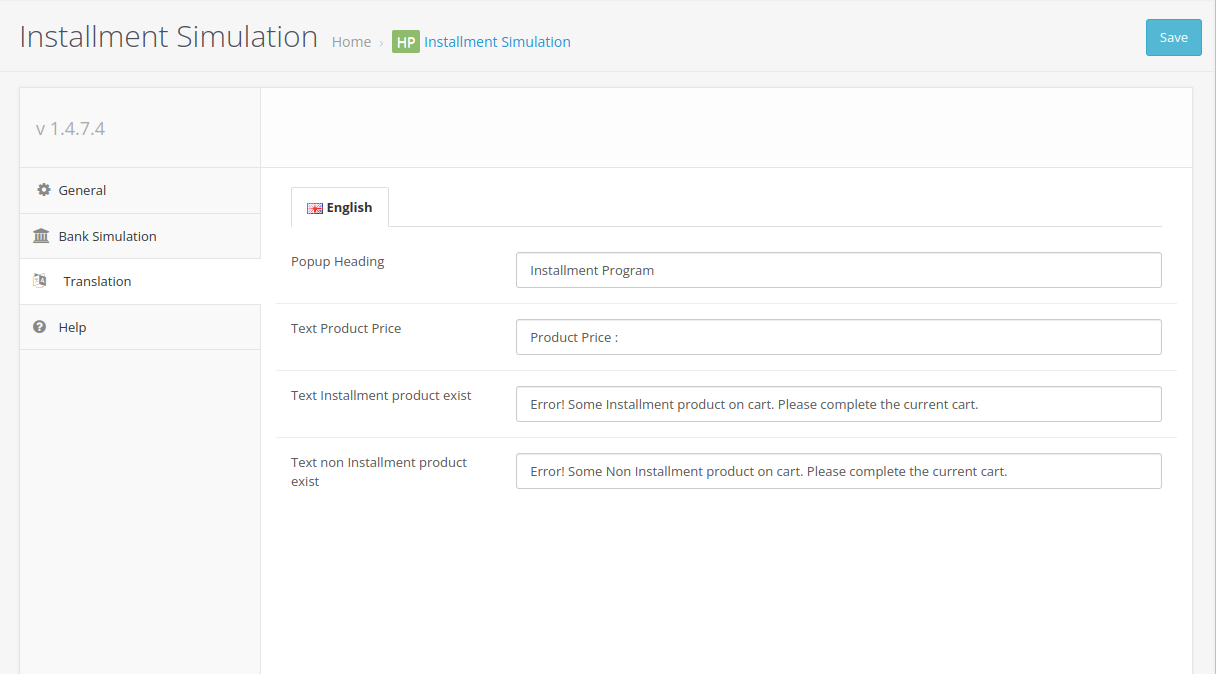 Display on the product page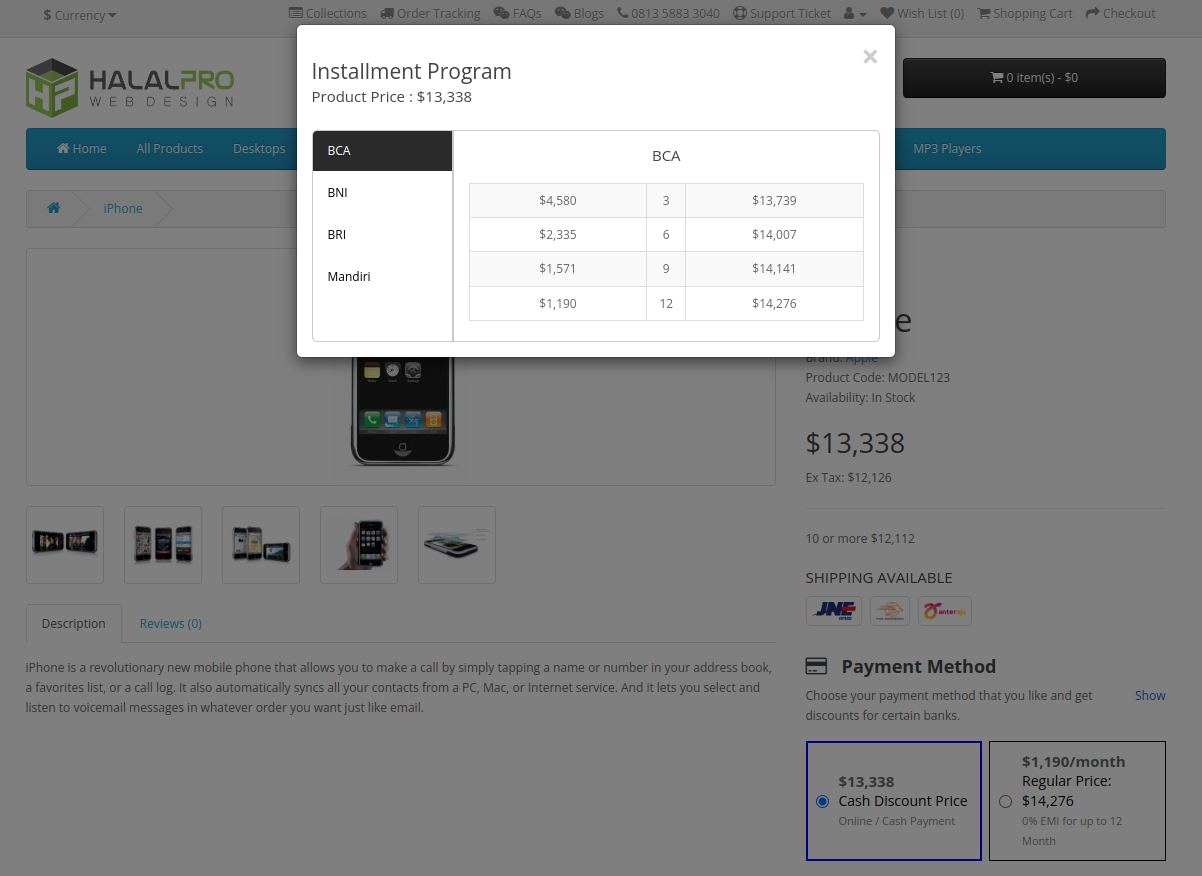 Much More
See demo for another feature
HP Bank Installment Simulation OpenCart
FREE INSTALL!
Every purchased extension is automatically included with FREE installation service.
Specification
License

Single Domain License

Compatibility
3.0.3.8, 3.0.3.7, 3.0.3.6, 3.0.3.3, 3.0.3.2, 3.0.3.1, 3.0.3.0, 3.0.2.0, 3.0.1.3, 3.0.1.2, 3.0.1.1, 3.0.0.0
Documentation
Multi-lingual Support

YES


Override Core Files

NO
Every purchase of an OpenCart module at HPWD you automatically get:
Free updates forever

Free installation on your OpenCart website




Free Technical support up to 12 months




See technical support terms: Support Policy

(*) Installation might be charged for complex extension such as social media integration, API setup, etc.