-35 %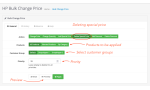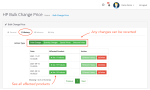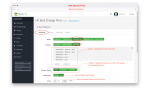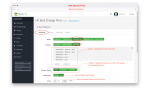 Quickly update price and quantity

with

Change Bulk Price!

Hi, OpenCart Users!
Do you want to make product management easier?
Updating prices and quantities without having to edit individual products ?
Introduce: OpenCart Products Bulk Change Price
Managing many products in the opencart online store is sometimes quite inconvenient, especially if there are frequent changes in product data, so we have to edit product data one by one, to answer these difficulties we as opencart developers took the initiative to create a module that can edit a lot of product data at once.
This module is called HP Bulk Change Price, with this module with just one click you can change all product data in our online store. At least until now HP Bulk Change Price can change 3 product data that changes frequently, namely price, quantity, and special price. It is possible that in the future there will be other data change features if there are many requests and we think they are needed.
The question now is how can this Bulk Change Price module help manage your OpenCart products? the short answer is in the list of key features of HP Bulk Change Price below.
Can change the price of multiple products at once.
Can change the qty of multiple products at once.
Can add special prices for multiple products at once.
Can remove special prices for multiple products at once.
All the features mentioned above can filter products to change only the product data you want.
Can undo changes if there is a data change error.
Those are the main features of the Bulk Change Price module, this article will also discuss how to use them so that you can use them well and immediately imagine the benefits of the features mentioned above.
Another goal is to minimize errors in usage, especially since it is associated with a large amount of data, so that when using it, there will be data that should not change but also change.
General Tab Settings
On the Bulk Change Price setting page we will be directed to the General Tab with various buttons used to change product data, the 4 main features that I have mentioned above are visible here, namely in the action section and consist of 4 button choices among others .
Change Price
Change Amount
Add Special Price
Delete Special Price
Next we will try these 4 features, I will also explain about the function of columns and buttons on the form that will be provided later. As a note, if later when reading something is not explained, there may be 3 things.
The first has been explained elsewhere in this article, the second I'm postponing to explain later, and the third I've missed. So please read the article in full, and if something is still unclear, please ask in the comments column.
Change Product Price
It's very easy to change the price of many products, you can see the explanation in the image below.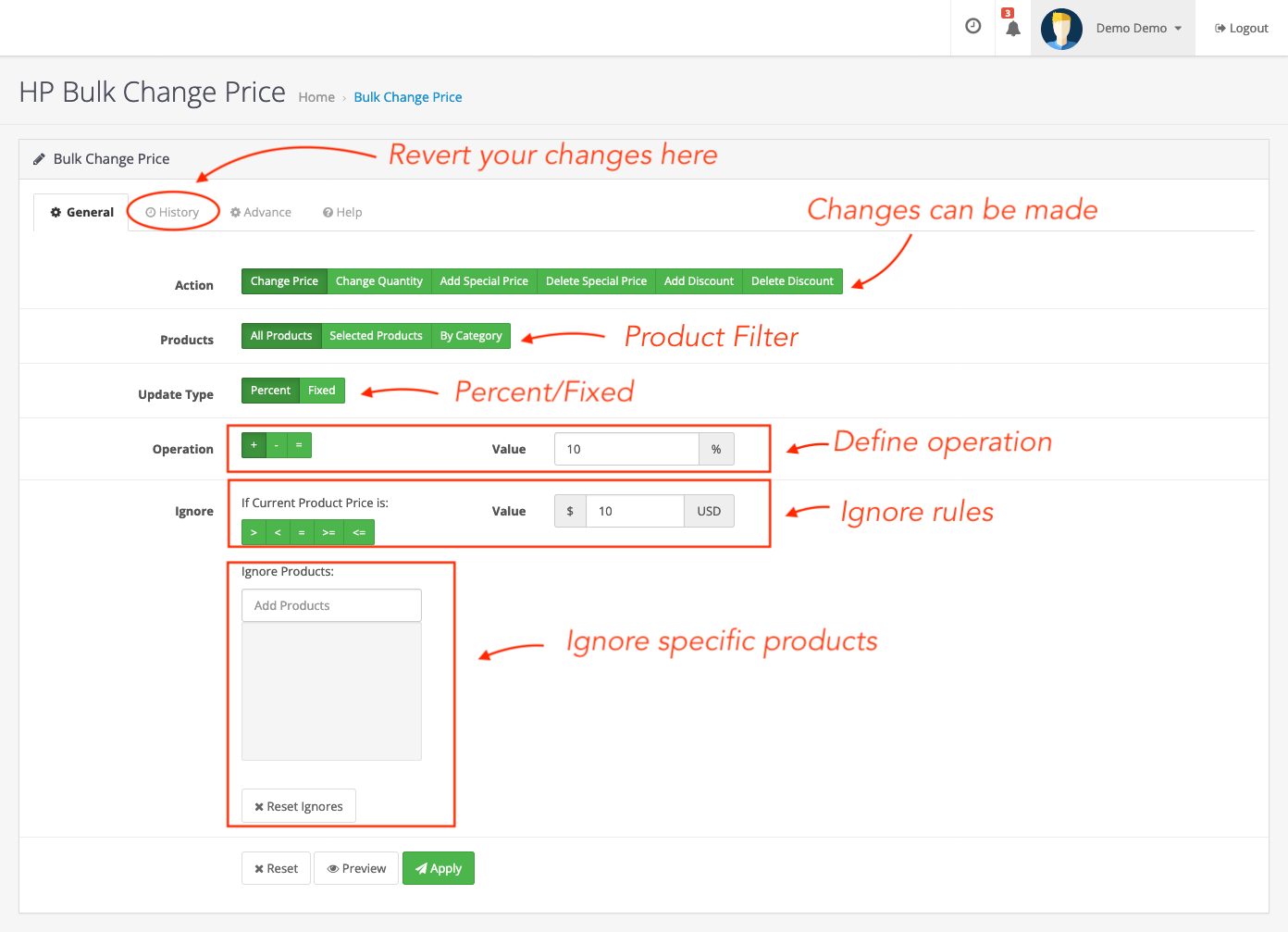 From the picture above, I hope you start to understand how to use this module, but I'll tell you a few things that need to be clarified to complete the information in the image above.
Operation
In the current field of operations, we provide mathematical operations, namely addition (+), subtraction (-) and equals (=).
Ignore
In the ignore column for product exceptions, we provide 5 math operators as conditioning.
In the image above the operator selection > means "more than" if you read it, then any product that costs "more than" IDR 100,000 does not include change.
So if you choose another operator, just replace the word "more than" in the sentence above in accordance with the meaning of other operators which will be explained below.
< means less than
> means more than
= means the same as
>= means more than or equal to
<= means less than or equal to
If you want to clear the exception that has been set, please click the Reset Ignores button.
Change Product Quantity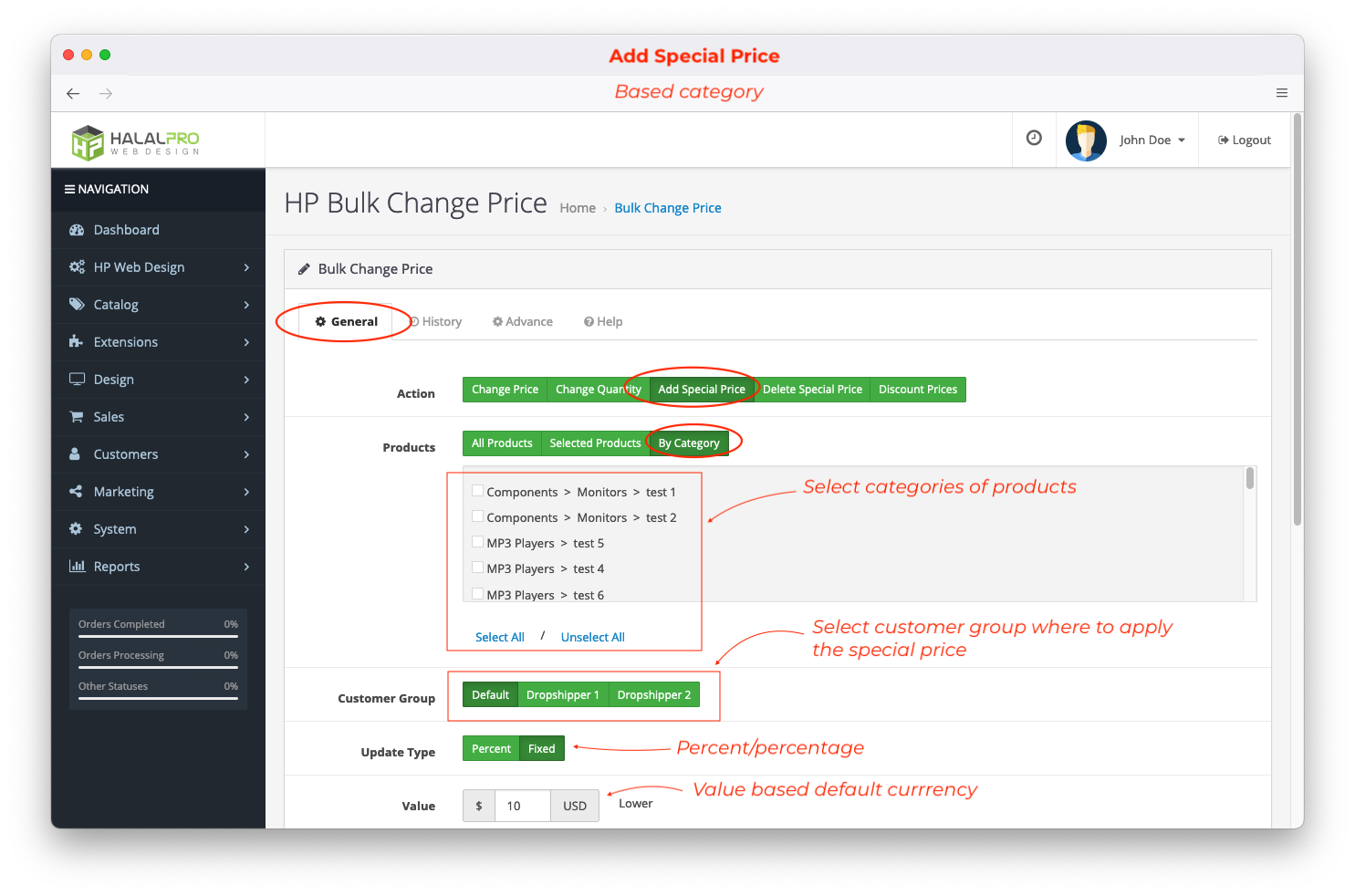 In the image above is an example if we want to change the number of products, here I try to distinguish it from the previous example, namely in the product field. I selected the selected product menu so I had to manually select the product to change the quantity.
For other explanations, see the image above, in my opinion it is almost similar to the features described previously.
Change Special Product Price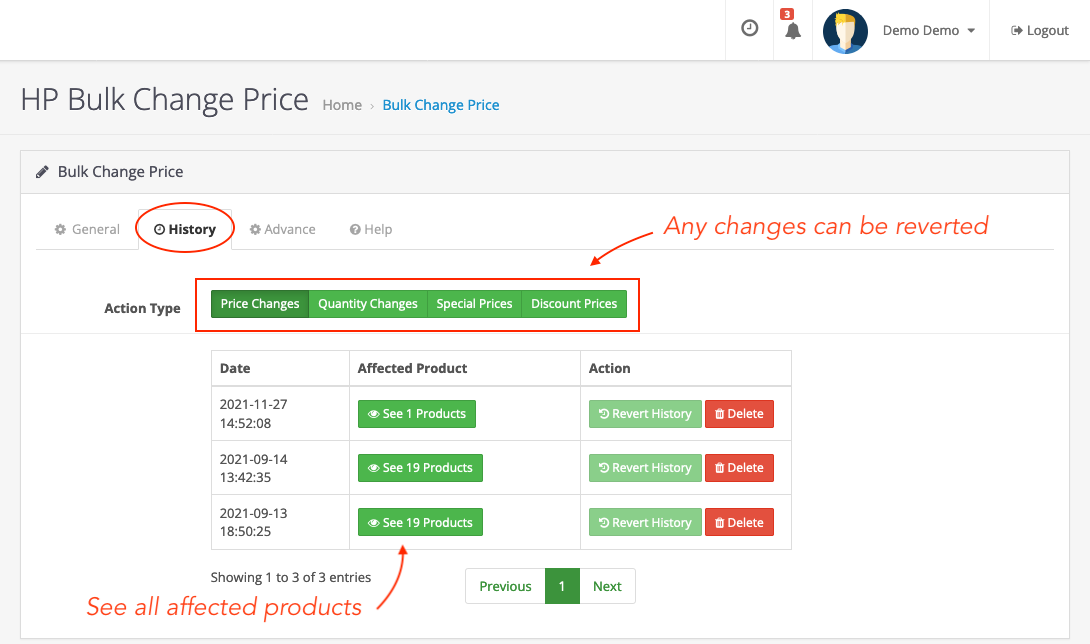 In this experiment I changed the product field again by category, here we can select the available categories. So every product that falls into the selected category, then the product will be changed.
If you have ever used the special price feature in OpenCart, you must be familiar with the other additional columns, namely customer group, priority and date, if you are not familiar with the special price feature in OpenCart you can try it directly in the Catalog → Product → Edit Product.
With this Bulk Change Price feature, adding special prices is easier, we no longer need to open product details one by one to give a 10% discount for each product, all with just a few steps, the Bulk Change Price module will solve it.< /p>
Delete Product Special Price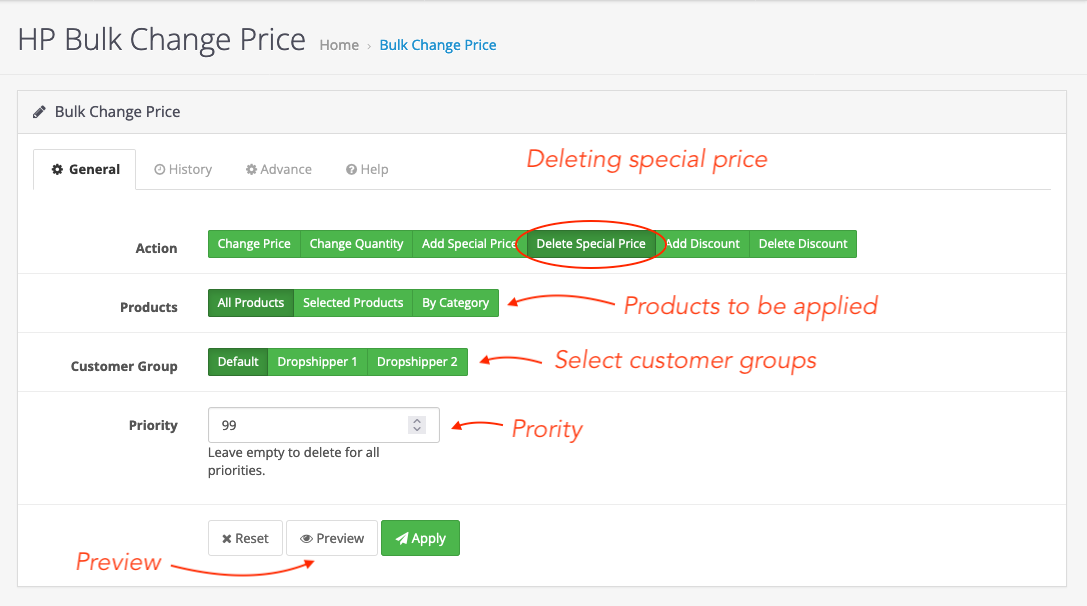 This last feature doesn't need to be explained anymore, because the previous features have been explained with the help of the image above.
Those are 4 types of data changes that the Bulk Change Price module can make, the last step after filling in the available fields, don't forget to click the Apply button, so that product data changes can occur.
But before that, it's better to check with the preview button, to make sure the edited product list is correct, an example of the preview display will look like the image below.
The list of products displayed in the preview is the product that will be affected by changes in data when clicking the apply button, if the product list does not match, please re-check the product column and ignore it to correct it.
History tab
Bulk Change Price has a history feature that makes all changes recorded by the system, more than that in this history section there is another excellent feature, namely the ability to restore data that has previously been changed by the Bulk Change Price module.
This feature is very useful if at any time – when we set the product column incorrectly, ignore it and click the apply button so that all product data changes.
To restore the changed data, please go to General Tab → select the type of action → and click restore history, so you can see more clearly in the image below.
Bulk Change Price, Quantity. Specials and Discounts Opencart
FREE INSTALL!
Every OpenCart extension you bought is automatically included with FREE installation service.
Specification
License

Single Domain License


Compatibility

3.0.3.8, 3.0.3.7, 3.0.3.6, 3.0.3.3, 3.0.3.2, 3.0.3.1, 3.0.3.0, 3.0.2.0, 3.0.1.3, 3.0.1.2, 3.0.1.1, 3.0.0.0

Documentation
Multi-lingual Support

YES

Every purchase of an OpenCart module at HPWD you automatically get:
Free updates forever

Free installation on your OpenCart website




Technical support up to 12 months




See technical support terms: Support Policy